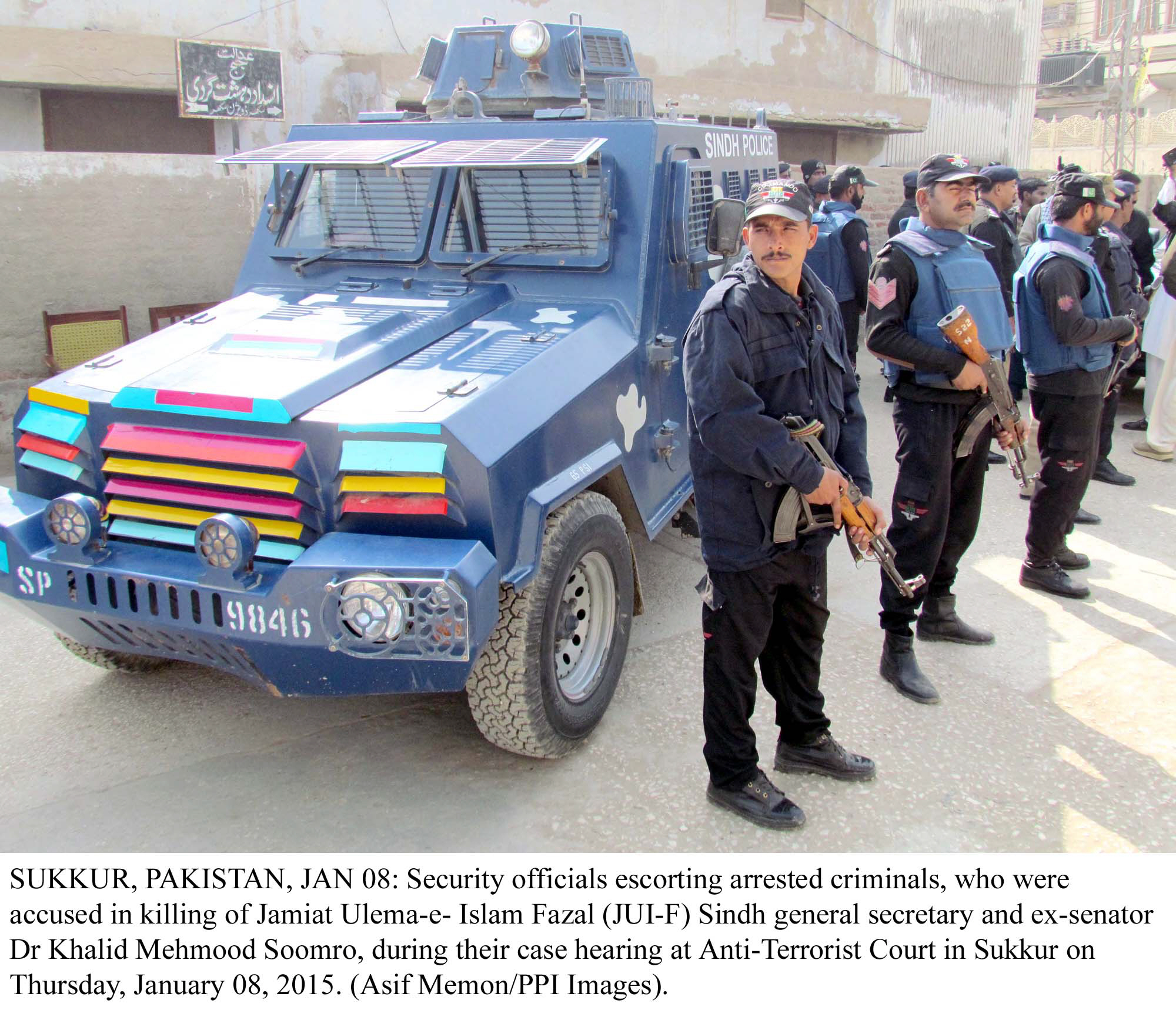 ---
KARACHI:



A worker of the Muttahida Qaumi Movement who was accused of being involved in cases of targeted killings died in police custody on Saturday.




Syed Faraz Alam, 24, son of Syed Nayyar Alam, was in the custody of the investigation wing of the Khokhrapar police of District Malir. His arrest was disclosed by the Korangi Industrial Area (KIA) police on January 2 after they registered a case against him for possessing an illegal weapon. The accused was later handed over to the investigation wing of the Khokhrapar police station.

Even though Faraz's name was not mentioned in any FIR, the police claimed he confessed to several murders during interrogation. "He revealed to have killed two Baloch men, a Kutchi man and a man who belonged to Sunni Tehreek," said Khokhrapar SHO Dhani Buksh, while talking to The Express Tribune. "Since all these murders were committed within our jurisdiction, our station's investigation wing took over his custody and started further inquiries."

Police officials claimed that the accused died when he was being taken to the City Courts as his seven-day remand had expired. "When the police squad reached Nursery, Faraz felt a pain in his chest and was rushed to Jinnah hospital, where he died," claimed DSP Baqi Rind. "The police did not torture him. He died due to a heart attack."

According to doctors at Jinnah Postgraduate Medical Centre (JPMC), the suspect was alive when he came in and he died during treatment. "Following the legal procedure, we shifted his body for medico-legal formalities to ascertain the actual cause of death," said JPMC deputy executive director Dr Seemin Jamali. "After the autopsy, the exact cause of death will be determined."

The body was kept at JPMC where his post-mortem will be conducted in the presence of a magistrate. However, a mob gathered at the medical facility and tried to beat the investigation officer of the case, ASI Manzur Solangi, who had arrived at the hospital for the legal procedure. The suspect's sudden death did lead to unrest in Khokhrapar and its neighbourhoods where shops shut down. No major incidents were reported but a large number of policemen were deployed.

Family claims innocence

The family of the deceased claimed that Faraz was not involved in any criminal activity and accused the police for torturing and killing him. He leaves behind a widow and a 10-month-old son, Ayan. Faraz had recently graduated and was looking for a job. He had lost his father and now leaves behind his younger brother as the sole breadwinner in the family.

"He [Faraz] was in perfect health and was not suffering from any disease," said his younger brother, Hadi Alam. "We met him earlier the same day and gave him toothpaste and a toothbrush," he added.

Hadi claimed his brother had complained of police torture and had demanded jail custody, instead. "He died after the police gave him toxic injections on both his hands," the brother claimed.

According to the family, some men in plainclothes arrested Faraz on December 28, 2014, from his house. The Korangi Industial Area police declared the arrest on January 2. "The police killed my brother as we failed to pay the bribe," claimed the suspect's cousin, Salman. "Every policeman had a different demand. Someone asked for Rs1 million for his release, someone else demanded Rs50,000 to get him jail custody, and then someone asked for Rs4,000 to produce him in court." When ASI Solangi was asked about these allegations of bribes demanded by the station investigation officer Ali Abbasi, he refused to comment.

Meanwhile, Karachi police chief Ghulam Qadir Thebo formed a four-member inquiry team headed by district East police chief to probe the case.

Published in The Express Tribune, January 11th, 2015.