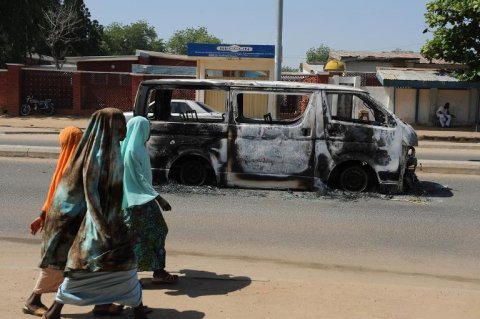 ---
MAIDUGURI, NIGERIA: A suicide bomb attack by a young girl thought to be as young as 10 in the northeast Nigerian city of Maiduguri killed 19 people, police said on Saturday.

Borno State police spokesperson Gideon Jubrin told reporters: "Casualty figure: 20 dead and 18 injured, including the female suicide bomber that detonated the improvised explosive device."

The blast happened at about 12:40 pm near the live chicken section of the Monday Market in the Borno State capital, which was targeted twice in a week by female bombers late last year.

There was no immediate claim of responsibility but Boko Haram militants have increasingly used women and young girls as human bombs.

Civilian vigilante Ashiru Mustapha said the explosives detonated as the girl was being searched at the entrance to the market.

"The girl was about 10 years old and I doubt much if she actually knew what was strapped to her body," he told AFP.

"In fact, she was searched at the entrance of the market and the metal detector indicated that she was carrying something."

"But sadly, the explosion went off before she was isolated, killing at least 10 people and injuring many others."

The market was cordoned off as health officials began the grim task of sifting through the wreckage and collecting body parts.

A Red Cross official who declined to give his name said, "We have so far evacuated 10 bodies to the mortuary at the (Borno) State Specialist Hospital."

He added: "Many people sustained life-threatening injuries."

Witness Abubakar Bakura said: "The blast split the suicide bomber into two and flung one part across the road."

"Among the dead are two vigilantes who were searching the girl. I am pretty sure the bomb was remotely controlled."

An attack at the market on December 1 killed more than 10 people, and the previous week more than 45 people lost their lives in an attack there.

Boko Haram launched its first female suicide attack in June last year in the northern state of Gombe and there have been a spate of bombings since, including four in a week in the city of Kano.

In July, a 10-year-old girl was found in Katsina state wearing a suicide vest, prompting speculation that young girls were being forced into becoming human bombs rather than through ideological motivation.
COMMENTS (4)
Comments are moderated and generally will be posted if they are on-topic and not abusive.
For more information, please see our Comments FAQ