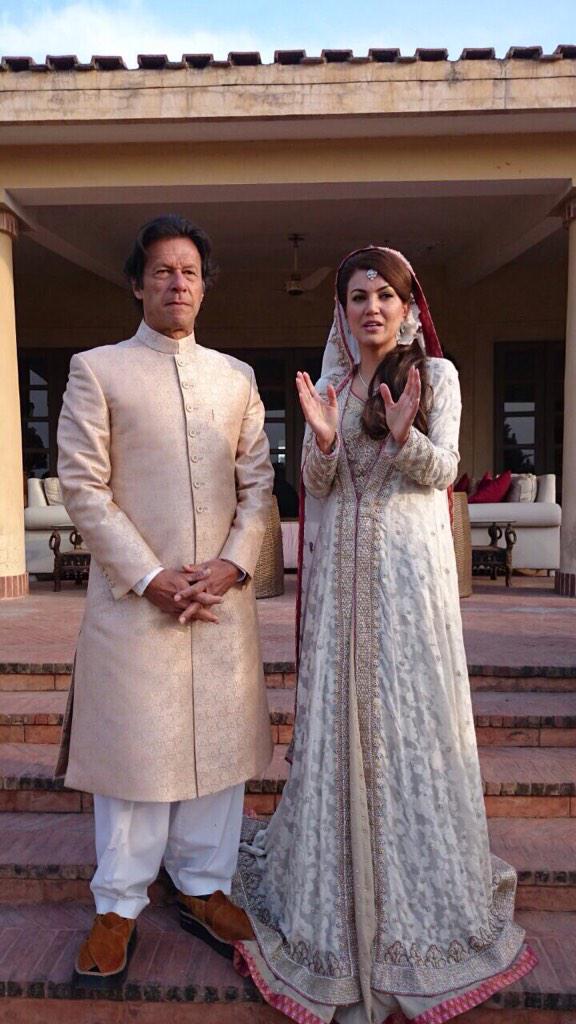 ---
PESHAWAR: The most talked about wedding of the season took place today with Mufti Syed having conducted the nikkah between Imran Khan and Reham Khan at Imran's Bani Gala residence, Express News reported. 

Speaking to the media after conducting the Nikkah, Mufti Syed said, "Imran Khan sb asked me to speak on his behalf to the media, his Nikkah just happened and the witnesses included Aun Chaudhary, Zakir Khan, Reham's friend Aziz and others."

Further, Mufti Syed refused to comment on whether a Nikkah between the two had been conducted earlier.

He added, the Haq Mehr was set at Rs100,000.

Imran wore a cream-coloured Sherwani, while Reham wore an off-white peshwas dress with red brocade border.




PHOTO: ONLINE

Earlier, Syed said while speaking to reporters, "The good news you have been waiting for, I have come here for that."

PTI leader Imran Ismail confirmed Mufti Syed conducted the PTI chief's Nikkah.

"The event was a low key affair because we did not want to celebrate due to the Peshawar school massacre," Ismail said while speaking to the Express News.

Further, he said close friends and family attended the ceremony.

Earlier, there were reports that Imran's wedding may also be a fundraiser for the PTI chief's Shaukat Khanum Cancer Hospital, which is currently under construction in Peshawar.

However, the reports were rubbished by PTI leaders. Talking to The Express Tribune, PTI's Arif Alvi said it was the first he had heard such reports and he was completely in the dark when it came to Imran's wedding plans.

PTI's central information secretary Shireen Mazari also took to Twitter to rubbish the reports.


Few TV channels r delib giving wrong info abt IK's marriage,incl sale of invites!Such rubbish is unacceptable & insulting. Yellow journalism

— Shireen Mazari (@ShireenMazari1) January 8, 2015


"There are no wedding or Valima receptions. Tomorrow food will be distributed amongst poor children," Mazari added.

A local Urdu newspaper on Thursday reported that the politician and his close aides are discussing certain proposals to raise funds at the Valima ceremony.

It is being proposed that the Valima ceremony will be held in four main cities -- Peshawar, Islamabad, Karachi and Lahore. While Valima cards will only be given to those who ensure contribution for the completion of the cancer hospital in Peshawar.

The report further states that the minimum price of the Valima invitation is fixed at Rs100,000 while VIP cards will cost between Rs500,000 to Rs1,000,000.

A total amount of Rs500 million is expected to be earned from Imran's Valima celebrations. After weeks of rumours and speculation, on Monday Imran confirmed he had good news to share regarding his marriage with the nation.




PHOTO: ONLINE

Imran has married Reham Khan, a journalist who formerly presented the weather on the BBC. For what we already know about the woman speculated to be the PTI chief's newlywed read here.


I want to thank everyone for their good wishes on my marriage & would ask those wanting to send a gift to donate to SKMTH Peshawar instead.

— Imran Khan (@ImranKhanPTI) January 8, 2015
Thank you for all your kind wishes.We would appreciate that instead of sending us presents if you could donate to SKMT Peshawar.

— Reham Khan (@RehamKhan1) January 8, 2015


The PTI chief was previously married to Jemima Khan, nee Goldsmith and has two sons with her, Qasim and Suleiman.
COMMENTS (61)
Comments are moderated and generally will be posted if they are on-topic and not abusive.
For more information, please see our Comments FAQ