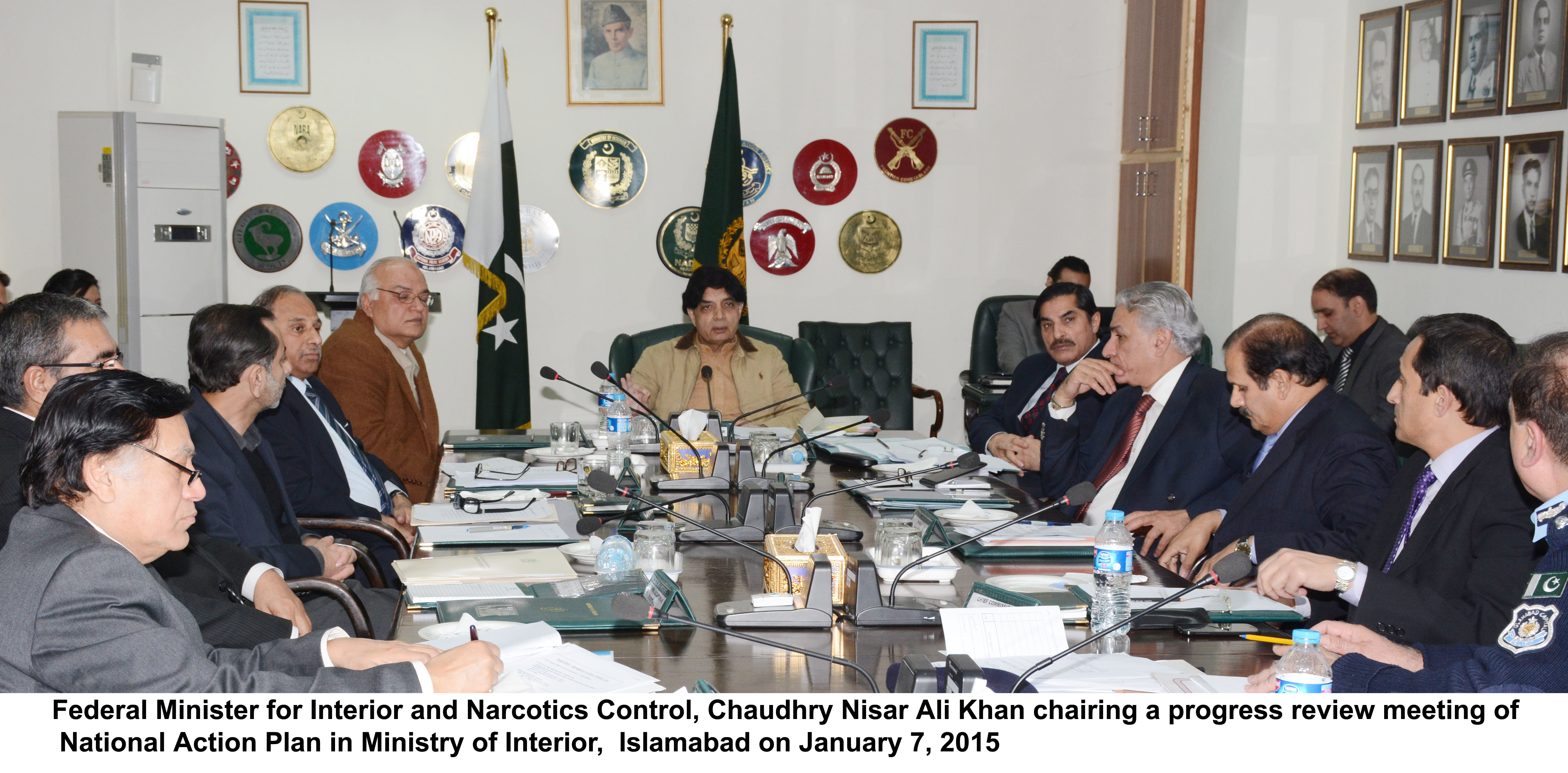 ---
ISLAMABAD: The national counter-terrorism authority (Nacta) has been directed to maintain close and effective coordination with all provinces and other stakeholders as the government seeks swift implementation of the 20-point national action plan (NAP).

The directions came during a meeting to review implementation of in Islamabad on Wednesday. Interior Minister  Chaudhry Nisar Ali Khan, who chaired the meeting, said that it was of vial importance that they rise to the occasion to meet the expectations of the nation.

The minister stressed that everyone should do their bit and work diligently to curb extremism once for all with the support of whole nation.

Nsiar also reviewed progress made on setting up a dedicated national counter-terrorism helpline, 1717, and directed formulation of a standardised mechanism for ensuring provinces take requisite action on actionable intelligence received and relayed through the helpline. He added that Nacta was now acting as a centralised, intelligence-based information point for all the provinces, the armed forces and intelligence agencies.

Further, the minister said that the issue of un-registered Afghan refugees will be taken up with the UNHCR and the Afghan government to settle the matter amicably.

On the subject of illegal SIMs, Nisar said that it was only a matter of few months when all old SIMs will be completely re-verified.

The meeting was attended by Secretary Interior Shahid Khan, National Coordinator NACTA and other senior relevant officials.

Lahore police devises roadmap for Nap implementation

Meanwhile, in Lahore police finalised a roadmap to implement NAP.

During an internal high-level meeting of the Lahore Police at Police Lines on Wednesday, it was decided that restrictions on banned outfits collecting donations will be strictly implemented. Protests by members of banned outfits will not be allowed with police retaining the option to baton charge such protesters.

Further immediate action will be taken against the misuse of loudspeakers with an FIR to be registered against the prayer leader, prayer caller and mosque committees in case of violation.

"Operation clean sweep will be launched immediately against the hate material of any sort whether it is in the form of print, Audio or Video CD," a senior police official familiar with the meeting said on the condition of anonymity.

He added that officials had decided to stringently implement rules relating to display of weapons and aerial firing. In the event that a licensed weapon is used for aerial firing, police will register a case and request the DCO to cancel that license.

Further, attendance of officials under the fourth schedule will be implemented and action will be taken against those who do not show up for duty.

Afghan refugees and other foreigners living in the country on expired visas will be prosecuted under foreigners act against.

"A crackdown in this regard have already been started which will be intensified."

The meeting was chaired by the Capital City Police Officer (CCPO) Captain Retired Amin Wains and attended by DIG Operations Dr Haider Ashraf, DIG Investigation Shahzad Sultan, SSP Investigation Rana Ayaz Salim and senior officials of the special branch.