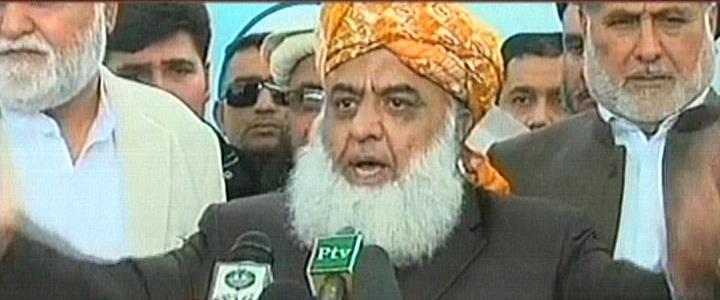 ---
ISLAMABAD: Chief of his own of Jamiat Ulema-e-Islam Maulana Fazlur Rehman accused on Tuesday the government of "trying to link religion with terrorism" in reference to an amendment for madrassah reforms.

"Terrorism does not differentiate between religion and secularism," the JUI-F chief said, while addressing the media shortly after the approval of the 21st Constitutional Amendment Bill and Pakistan Army Act 1952 (Amendment) Bill 2015 in the National Assembly today.

"We expressed our reservations over the bills, and how they will create a division between religious and non-religious parties," the JUI-F chief said.

"Pakistan is an Islamic state, and it will not be made a secular state," he said.

He reiterated that the prime minister did not take his party into confidence regarding the amendments.

The JUI-F and the Jamaat-e-Islami abstained from voting for or against the bill today, to which Fazl said, "We avoided committing a sin today by abstaining from voting."

"Whether it is a secular country or a non-secular country, the nation should unite to fight against terror," he added.

"We were told today that two government representatives would speak with us, in order for us to present our reservations. However, when they came to us, the bill was already being passed," he said, questioning the sort of talks they were.