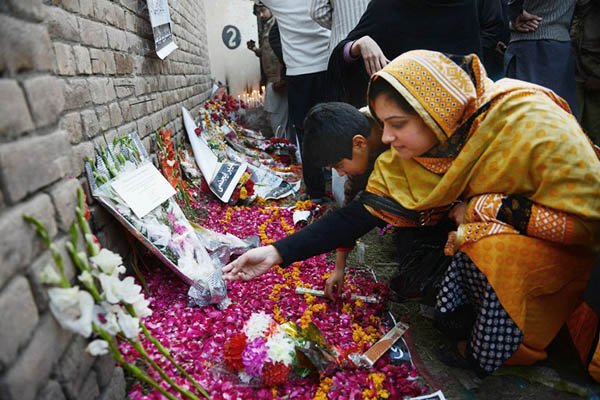 ---
PESHAWAR:



"I have never been to your country and I know very little of your religion. But I know that both are very beautiful. What happened was more than wrong, it was evil.




Any man willing to commit any evil like that is no man of God but a man made purely of hatred. I know that my words could never change the loss that you have suffered, but I would like to say that even though I never knew your beloved I believe that they are beautiful souls and I mourn with you. – Francesca, USA."

If you walk past the main gate of Army Public School (APS) and enter the main building, you see thousands of messages, flowers, pictures and banners left there by parents, relatives and general visitors including NGOs.

There is a blackboard probably taken out of an APS classroom standing now in the area open for visitors. It has a few messages sent via the internet and post from as far as Canada, USA and Australia. A small envelope hanging from the blackboard contains dozens of other condolence messages that probably remain unread.

One such message reads, "To the families affected by the Peshawar incident and those in the Peshawar community, know that we are supporting and thinking of you every day. We have not forgotten about you and mourn with you. I am eternally sorry for your losses and hope justice will soon be served. Continue to pray and stay strong. With love Savannah, Toronto, Canada."




Another one is sent by an unknown person from an unknown place. "May God keep you and let you know that your friends and family will be cheering for you up in the heaven. May you always remember their warmth and love and may it give you strength. – Anonymous."

Yet another note from Australia reads, "We will not forget you. My family and I here in Australia have you in our thoughts and prayers, although we wish we could do more for you. Never will we forget that innocent victims of this attack. We will not forget our brothers and sisters who are suffering. I know it's not much, but we love you and wish you all well. – Mara and Haylee in Australia."

One lengthy message is sent by an overseas Pakistani woman as is evident from her condolence message, but she has not given her name. "Dear Compatriot, How are you? That's a very silly question to ask, almost rude, but I want to know. I woke up Wednesday morning thinking I will continue my daily tasks as usual. I didn't realize my heart will shatter along with the hearts of many in my country… I am here for you. Each and every Pakistani, even the ones not in the country are here for you. I would like to tell you that Allah does not forgive the takers of life… I hope you realize that the entire Muslim ummah is here for you.  – with love, your daughter."

Talking to The Express Tribune, an army officer deployed at the site said that these messages started reaching the school soon after the attack and they have been put on display for visitors.

One visitor, Ayesha, said that it was good to know that people from far-flung corners of the world are feeling "our pain and sending these messages to condole the loss of innocent lives". She said most of the messages were sent by non-Muslims residing in the western world.

"But I ask one question. Do we also do the same when a tragedy strikes somewhere else in the world? As far as I know we simply ignore it and sending a message is considered just a waste of time," she said. "It is time we as a nation re-think our priorities and policies. We should voice our concern against the loss of innocent lives anywhere in the world," she said.

Published in The Express Tribune, January 6th, 2015.
COMMENTS
Comments are moderated and generally will be posted if they are on-topic and not abusive.
For more information, please see our Comments FAQ