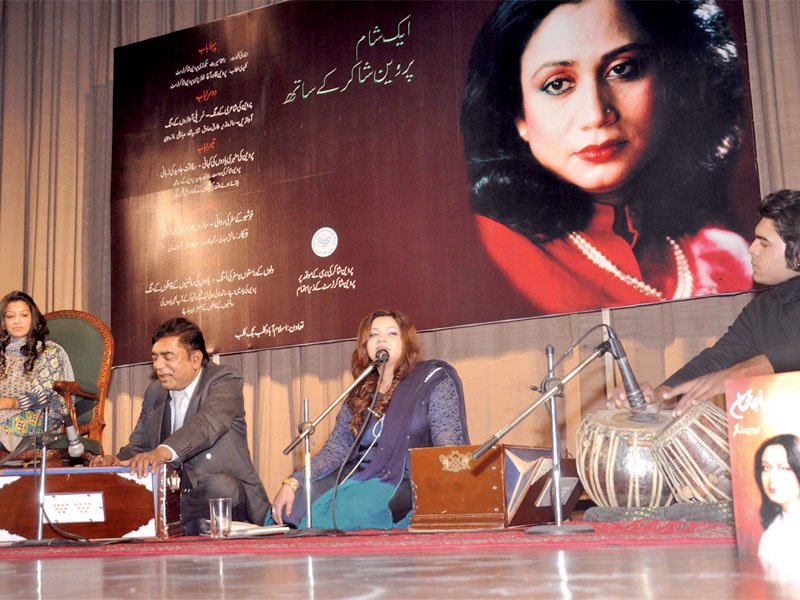 ---
ISLAMABAD:



Friends and fans on Saturday paid rich tributes to Parveen Shakir at a session to mark her 20th death anniversary.




Shakir died in a car accident in Islamabad on a rainy winter morning December 26, 1994. She was 42.

Admirers remembered her in fond words, often punctuating her verses and anecdotes in their touching tributes.

Gulmeenay Sethi moderated the evening, likening its multiple sessions to chapters of a short novel, which rekindled Shakir's memory with affection and praised her contribution to the world of Urdu literature.

"Yes, it has been two decades since the death of Parveen Shakir who died at the prime of her life, of her profession, of her charm, her beauty and of course at the prime of her literary career," said Parveen Shakir Trust Chairperson Parveen Qadir Agha. She added that friends and well-wishers of Shakir formed the trust to promote, protect and preserve Shakir's poetry.

"In today's Pakistan, we are fast losing our love for literature. It is an age of journalism, social media, SMS and sensationalism. There is a fear of creative literature being lost. The speed of the growth of new poets, novelists and ghazal singers has slowed down. Hence, we in the trust feel the need for promotion of creativity as one of our main objectives. For this, I'd like to elicit the interest and involvement of our youth," said Agha.

Students of Federal College for Women F-7/2 Shazia Shah, Saba Ali and Saira Nazir rendered Shakir's poems in a lyrical manner.

Rafaqat Javaid, a close friend of Shakir, reminisced the last time she had met the poet. Sharing snippets from their brief yet memorable encounter, she highlighted various facets of her personality – her innocence and resilience, a penchant for literature and a whim for ice cream in cold weather.

Vocalists Tariq Sadiq, Aashiq Mehdi, Wateen Qadri, Saad Farooq and Rizwana Khan rendered verses from Shakir's poetry. Accompanying instrument players on tabla and harmonium were Gulshan Iqbal, Muhammad Aslam Ali, Sajawal Khan and Nazakat Ali.

Mehdi rendered the ghazals "Ata nahi karar kyun, "Hawa ke hote huye" and "Bechain hogaye hain hum". Mehdi is a disciple of the late, legendary ghazal singer Mehdi Hassan and belongs to Rajasthan.

The young Qadri mesmerised the audience with melodic performances of "Chand uss des mein", "Ab aur jeenay ki surat" and "Tooti hai meri neendh" to much applause.

Khan's rendition of "Gulabi phool" in aiman Kalyan raga and Sadiq's "Who tou khushboo hai" were reminiscent of the metaphor of fragrance that the poet often used in her verses.

Farooq, a descendant of Ustad Fateh Ali of the Patiala Gharana, sang Shakir and Mirza Ghalib to mark his 217th birth anniversary. From the soulful ghazals "Woh tou khushboo hai" and "Poora dukh aur aadha chand" to the deeply philosophical "Har baat pe kehtay ho tum", his performances were mild and soothing.

The evening rounded off with the audience lighting candles in the memory of Shakir who immortalised her words with the verse, "Mar bhi jaun tou kahan log bhula denge, Lafz mere 'mere' hone ki gawahi denge."

Published in The Express Tribune, December 28th, 2014.