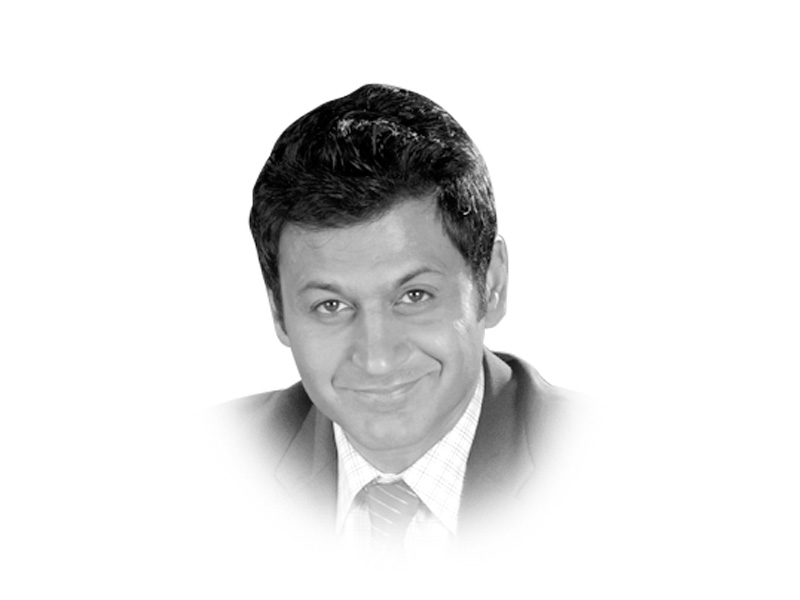 ---
So by forging a consensus and crafting a plan, are you doing us a favour, huh? You want credit for what you get paid to do? You want us to thank you for waking up from your slumber after the massacre of 132 of our beautiful children? Is that how the logic goes in whatever cuckoo land you live in?

Seriously?

The sickness afflicting our ruling elite cannot be cured by a national plan or any other fancy-named strategy. No sir, this sickness, this disease goes deeper and incapacitates their ability to see what the people feel. And what do we feel? Gut-wrenching pain at what happened in Peshawar — or what was allowed to happen in Peshawar.

Yes, allowed. Feel the weight of this word here: allowed. Now let this word enter your bloodstream like poison. Let it circulate in your veins till it forces involuntary convulsions and inflammation so intense your body bursts into combustion. This is how the pain feels like. To us.

And to them? To them, this is a moment to show us their political prowess. This is the time to regain their long lost mojo; to clip on the spurs and hop back on the saddle. Good. This is better than being brooding, reluctant and confused at a time when clarity of purpose is a job requirement. Yet this clarity must cut across all boundaries. And so before the rulers start gloating over their new-found resolve — cemented on the bodies of 132 children — they should start by apologising for their crimes against this nation.

Yes all of you who sat across that table in the Prime Minister's House that day, every single one of you stand up, look the nation in the eye, and say: "I am sorry". Say it. Say it aloud. Shout it aloud. Scream it till you have no air left in your lungs and no sound in your throat. Then shed tears. Shed them till you have none left because you — all of you — allowed 132 of our beautiful children to be slaughtered by these beasts.

You Mr Prime Minister, you Mr Army Chief, you Mr Imran Khan, you Mr Fazlur Rehman, you Mr Sirajul Haq, you Mr what's-your-name from the PPP, the MQM, the ANP, etc., you all first apologise for what you or your institution/party has done, and not done, to reduce us to this sorry state. Admit your crime, confess your guilt, and beg forgiveness from the nation.

Yes, this is a changed Pakistan because we the people cannot stomach your duality anymore; because we cannot digest your lies anymore; we cannot swallow the hypocritical policy that you have always peddled; and we certainly cannot accept the crass incompetence you all have displayed again, and again, and again.

So apologise, dear general, for creating the monsters who feed on our children. The past cannot be wished away just like this. You have to face your demons. Say it. Go ahead, mouth those words: "I am sorry we followed a policy that bred these monsters for grand designs. I am sorry those grand designs exploded like grenades in our hands and the monsters we created are now feasting on our little babies."

Apologise, dear lily-livered politician, for mollycoddling these terrorists by calling them our misdirected brethren. Apologise for insisting on talking to them when you knew the only language they understand is the one that spouts out of a barrel. Yes, you Mr Khan, apologise for your apologistic policy towards these murderers, and you Mr Fazlur Rehman and Mr Sirajul Haq for your continued reluctance to cleanse the filth of terrorism in every sense.

Apologise Mr Sharif for your sheer incompetence in running this country; for not reforming the police and the judiciary; for refusing to treat our rotting education system as the absolute priority; for your audacious short-sightedness for investing in brick and mortar, not in flesh and bone. Say sorry for not admitting the militancy problem in Punjab and doing absolutely nothing about it. Apologise for your laidback style of governance; apologise for your inability to comprehend the absolute necessity of reform, and your lack of capacity to visualise a future for this glorious nation; apologise for your nepotism and cronyism, and for your fabulous failure to give any sense of direction or purpose to your electorate.

Apologise Mr MQM, ANP, PPP for the hell-hole that you have transformed Karachi into; for the bloodletting you have allowed in this metropolis; for the anarchy you have let loose in the guise of political expediency. Say sorry for your continuing disastrous governance and for letting militancy and terror breed in your city; say sorry for your shocking absence of sincerity and equally shocking lack of ability to rule with honesty and ability. Apologise for being unfit to rule this nation.

You — all of you — have the audacity to solicit praise for your plans now? Now? After the brutal murder of thousands of us? Have you looked in the mirror and seen the grotesque reflection that stares back at you?

So before you puff up your chest and proclaim the dawn of a new era, and before you expect a shower of national gratitude to rain upon your mandated being; before any of this, you make a pilgrimage. You — all of you — go to the little graves of our 132 children, and you stand with you head bowed. Then you apologise to these angels for who you are, what you have stood for, and all that you have done to make this country the mess it is. You apologise to these angels for not letting them live the lives they deserved, and you apologise for making them sleep not on their beds, but under the mounds of this earth.

And then, only then, do you talk to us about your resolve, and your determination and your freshly grown spine. Because you — all of you — should know well that a thousand grand national plans cannot wash away the blood of these children from your manicured hands.

Published in The Express Tribune, December 28th, 2014.

Like Opinion & Editorial on Facebook, follow @ETOpEd on Twitter to receive all updates on all our daily pieces.
COMMENTS (30)
Comments are moderated and generally will be posted if they are on-topic and not abusive.
For more information, please see our Comments FAQ