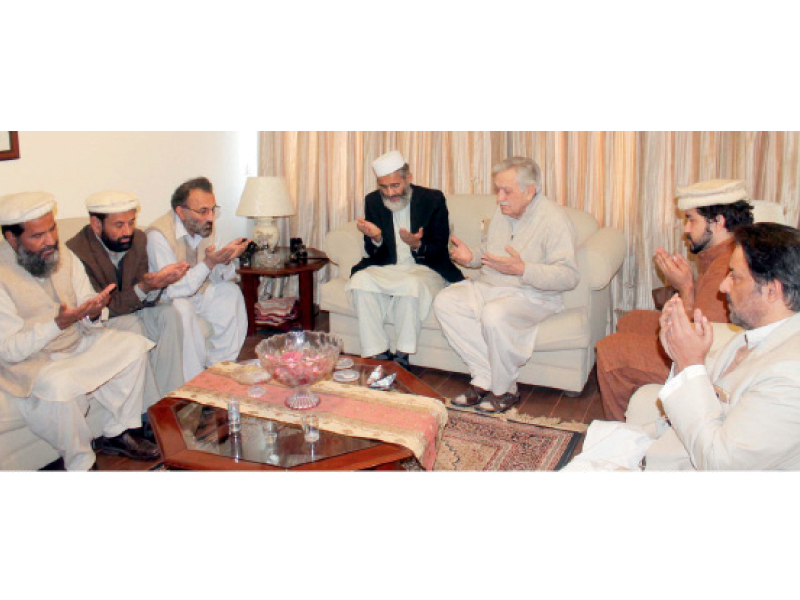 ---
PESHAWAR: Jamaat-e-Islami (JI) chief Sirajul Haq has urged the government to grant Army Public School and College university status following the brazen attack on the school that claimed 150 lives on December 16.

Haq said 2015 will be a year of peace, adding the government has been given a clear mandate by all religious and political forces to eliminate militancy. He said the onus is now on the government's shoulders to devise an action plan.




Talking to the media after offering fateha for slain APS principal Tahira Qazi in Landi Arbab, he said the country has suffered a great deal in the war against terror and the barbaric murder of innocent students and staff has united the countrymen for the cause. Haq stressed the sacrifice of Qazi will not go in vain.

The JI chief said the resolve shown by students in the face of death is remarkable, adding that the families of the victims are in need of support.

He also added the law and order situation of tribal areas has direct repercussions in settled areas of K-P. Haq urged the government to expedite the rehabilitation of internally displaced persons (IDP) to their native villages.

Haq rejected the notion that religious seminaries foster extremism. He said around 2.1 million children are enrolled in madrassahs and that stereotyping in not logical, adding the elements behind the propaganda against seminaries are unaware of their positive role in society.

Published in The Express Tribune, December 27th, 2014.