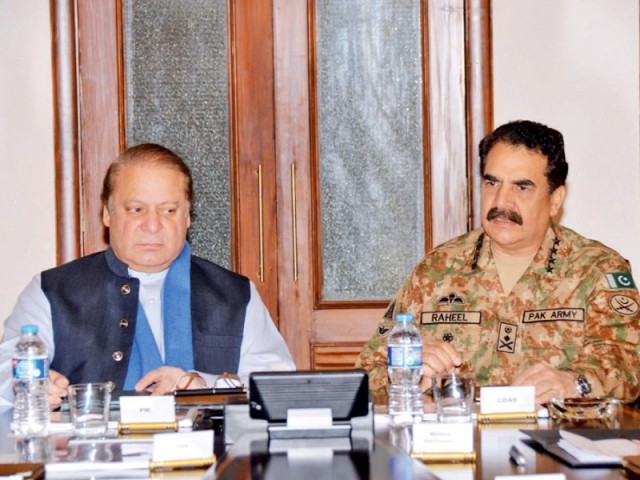 ---
ISLAMABAD: Prime Minister Nawaz Sharif presided over a high-level civil, military leadership meeting at PM House to review multiple options regarding the country's counter-terrorism plan, while resolving to ensure swift and effective implementation of an approved action plan.

The participants reviewed details the of national action plan to counter terrorism and extremism. A national action plan committee was formed following the Peshawar school massacre.

On December 16, Tehreek-e-Taliban Palkistan militants stormed an army-run school in Peshawar killing 148 people, including 132 chidlren.

According to a statement from the PM House, different short-term and medium-term steps to eliminate terrorism were discussed in the civil-military leadership meeting.

"The participants showed resolve to eliminate terror networks in every nook and corner of the country," the statement read.

Further, the civil, military leadership vowed to continue the ongoing Operation Zarb-e-Azb launched against militants in North Waziristan and the Federally Administered Tribal Areas till the last terrorist is eliminated.

The premier said that he will lead the fight against terrorism whatever the consequences.

"No distinction will be made between those who have committed acts of terror and those who are harbouring, facilitating and financing it," the premier said.

"National unity is needed to defeat the terrorists," the premier said.

Further, claiming the blood of 'martyrs of this war' will not go in vain, PM Nawaz reiterated, "Extremists and terror ideology will be defeated at any cost."

Appreciating the sacrifices made by the nation and armed forces in the war on terror, PM Nawaz said, "Sacrifices given by the people of Pakistan including Pakistani forces are unparalleled in this war."

Further, the participants reviewed the progress in the ongoing operations in North Waziristan and Khyber Agency.

The meeting was attended by Interior Minister Chaudhry Nisar, Finance Minister Ishaq Dar, Chief of Army Staff General Raheel Sharif, chief of general staff, Director General ISI Lt General Rizwan, DG military intelligence, DG military operation and DG ISPR Asim Bajwa.

According to sources, before the meeting Dar and Nisar apprised the prime minister regarding developments of the parliamentary committee on the national action plan.

Further, sources added army chief General Raheel Sharif briefed the premier about his meeting with Afghan Army Chief Sher Muhammad and ISAF Commander in Afghanistan at the GHQ earlier today.

Another meeting of the parliamentary leaders has been summoned in Islamabad on Wednesday to finalize national counter-terrorism strategy, Radio Pakistan reports.
COMMENTS (16)
Comments are moderated and generally will be posted if they are on-topic and not abusive.
For more information, please see our Comments FAQ