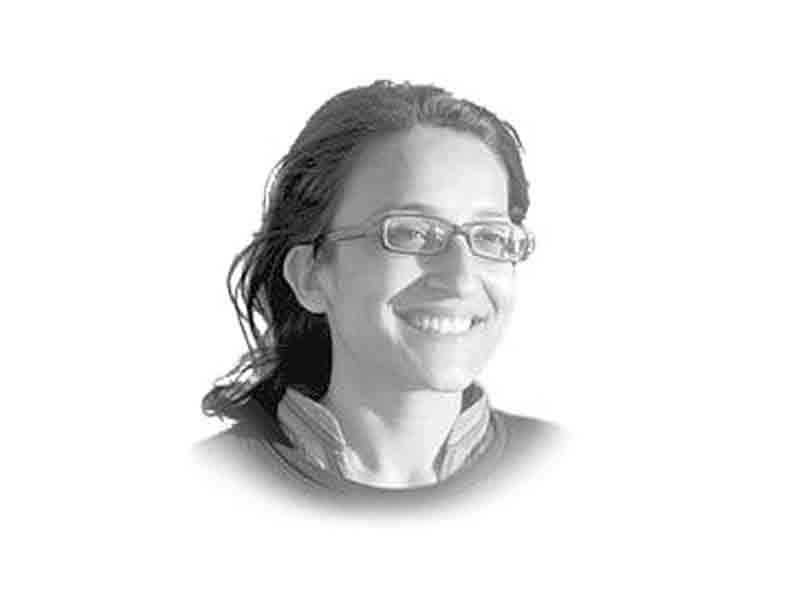 ---
Grief is a body blow; it robs us of speech. Violence is the dominant idiom of our times. It is understandable, then, that when we could speak again after Peshawar we spoke violence.

We will avenge. We will destroy. We will carpet bomb. We will kill. Today we mourn, tomorrow we fight. The moratorium on the death penalty is lifted. Fighter jets strike militant bases. Burn them all. Hang them all.

I spoke it too, the first 48 hours, part of the collective nightmare of millions seeking blood and dismemberment, evisceration as justice, an eye for an eye, an aye for their eyes. Violence is the idiom of our times, the language of most states, and Pakistanis speak it exceptionally well.

We speak it to ourselves, one another, strangers. A young survivor of the massacre spoke it to the cameras, after Peshawar. I will grow up and join the army and kill Taliban. And for the first time, I spoke to it my children. My 12-year-old replied, "Do you even realise you are preaching violence and vigilantism?"

Grief is a body blow. It displaces more than air. How fortunate I am to still have children to bring me home.

It is because of my children, the vessels into which we pour the most sacred part of ourselves, for safekeeping, that I can't get behind lifting the moratorium on the death penalty. Yes, I want justice, I want criminals to be punished. But our prime minister has simply played a red herring to distract us from his powerlessness, his province's culpability in the status quo, and we have leapt on it with the ferocity of the starving. "Hang them all!" they say at candlelight vigils. "Are you against the death penalty?" they ask on TV, suspiciously, as if suddenly not wanting to kill people is a betrayal too.

What is the current state of the justice system we wish to believe will 'avenge' innocence lost? Aasia Bibi is still on death row, and Zakiur Rehman Lakhvi, one of the main accused in plotting the 2008 Mumbai attacks, has just been granted bail.

The fact is, law enforcement and the justice system in this country protect those with resources and patronage and consume the weak. Who will investigate cases filed, gather evidence? The same police that swung into action on Thursday night when people protested outside the Lal Masjid and chanted slogans against Maulana Abdul Aziz, calling attention to the fact that the mosque is sanctuary to those who preach and encourage violence?

An FIR was indeed registered. Against the protestors. For blocking the road and "delivering hate speech". No official sanction or deterrence was directed against Maulana Abdul Aziz for refusing to condemn the school attack, on Waqt News on December 17. And an investigation late last month, after female students of Jamia Hafsa released a pro-IS video, ended when the spokesman and trustee of the seminary took the Islamabad administration to court for "harassing" him.

Do we have a justice system? Or do we have a system of institutionalised injustice? If the children of Peshawar are our children, then the children of alleged criminals and terrorists are also our children. Children are children. And I do not want to leave any of them vulnerable enough to think they have a reason to pick up a gun. No more innocent people should die, is what everybody seems to be saying. Maybe when we calm down we will re-examine how that might apply to the lifting of the death penalty ban too. These calls for nooses are simply grief calling to grief. Grief is inarticulate; it doesn't have to make sense.

The All-Parties Conference too, was a distraction, buying time. While our elected leaders were gathering around a table to say they would gather around a table again soon, our military leaders were flying to Afghanistan and ordering air strikes. Who led? Who followed? When will we stop so fluently abdicating from our right to know?

Pakistanis are trapped in a behaviour pattern in which, in trying times, we look to leaders trained to make war instead of leaders trained to make peace. But the world of December 16, 2014 is different from the world of December 16, 1971. As the bad apples in the American CIA are learning, and the bad apples of our own security apparatus might one day begin to, there is no more room under the carpet for fresh atrocities, and far less opportunity and tolerance for cover-ups.

Grief is a body blow. When violence is the idiom, and armies speak through us, we see life as a series of stark choices. Fight or flight. Kill or be killed.

In the stories of unspeakable horror currently circulating, two speak loudest to me. The first, of a teacher who faced the attackers to shield her students, who shouted for her charges to run even as she burnt. The second, of the principal who would not evacuate till she knew all her charges were safe. This is courage that does not borrow strength from arms or bombs or bombast. Courage that should be familiar to us Pakistanis, because we have seen it so clearly and so frequently. In Hazaras standing silently by coffins on the street, teaching us to stand and be counted without fear. In Baloch long marchers walking across the country for justice without asking for blood in return. In the stoicism of minorities answering pain with love. In Aitzaz Hasan. We do not know what Pakistan's countless fallen civilian heroes were thinking, at the very end. We do not know what they were feeling. But we do have one particularly eloquent survivor, Malala Yousufzai. This is what she told us in 2013.

"The terrorists thought they would change my aims and stop my ambitions. But nothing changed in my life except this: weakness, fear and hopelessness died. Strength, power and courage was born."

Published in The Express Tribune, December 20th,  2014.

Like Opinion & Editorial on Facebook, follow @ETOpEd on Twitter to receive all updates on all our daily pieces.