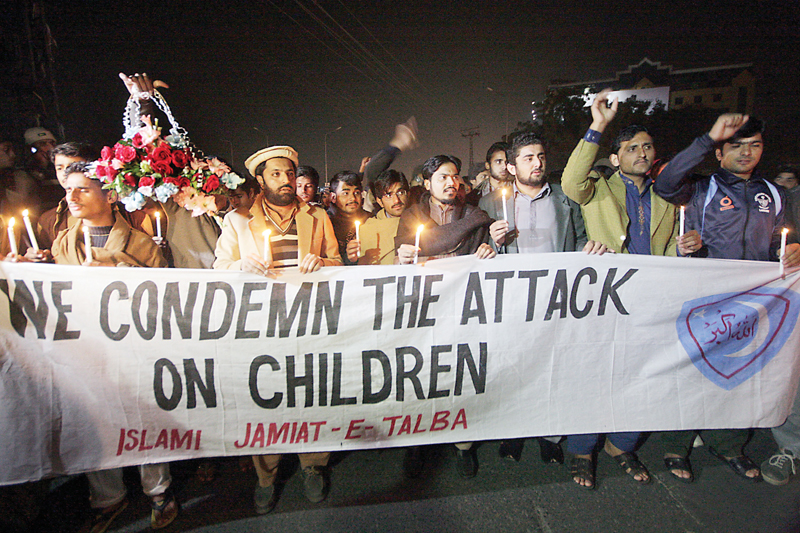 ---
LAHORE:



"The smallest coffins are the heaviest to bear," said Dr Raza as he placed a candle at Liberty Chowk in memory of more than 120 children gunned down at Army Public School in Peshawar on Tuesday.




Around 200 members of the Young Doctors' Association and the Islami Jamiat-i-Talaba held separate demonstrations at Liberty Chowk on Tuesday evening.

The doctors held a candle vigil and carried placards condemning the terrorist attack.




Muhammad Muddassir, a member of the IJT, said the attack had left the entire country in tears. "We need to take a strong stance against terrorists. Let's put narrow interests aside and work towards a permanent solution to this menace."

Another protester said, "The children who died were our children."

Human rights activist Asma Jehangir said, "We need to accept that such an attack was inevitable... anyone who still chooses to harbour a soft corner for terrorists should be dealt with strictly." She said the politicians who advocate negotiating with the Taliban shared responsibility for the attack. If the military operation had begun on time, several lives might have been saved, she said. "We need to set our priorities straight and stop passing resolutions in favour of the Taliban in the parliament. It seems as if the terrorists have rights while our children don't."

Grassroots Organisation for Human Development (GODH) project manager Mehreen Taimoor said the government needed to focus on protecting the citizens. There is no room for dialogue with terrorists, she said.





Citizens join doctors to light candles at Liberty Chowk in memory of the children who died in the attack (Left) IJT members also condemned the attack (Right). PHOTOS: ABID NAWAZ/EXPRESS




Diep Saeeda, a former chairperson of the Institute for Peace and Secular Studies, said all political parties needed to declare the Taliban terrorists loud and clear. "We need to root this problem out. Taliban sympathisers are everywhere and the growing radicalisation of our society is dangerous."

She urged the government to regulate maddrasahs and keep a check on religious institutions. "Hate material in our syllabus needs to go first." Saeed said journalists should be given access to areas where military operations were conducted so that there were checks and balances. "Terrorists kill our children, call up the media and claim responsibility. Do we have no means to trace and neutralise them? If a school in a Cantonment is not safe, what can we say about other places?"

Minority rights activist Napolean Qayyum said the Christian community condemned the barbaric attack. "We mourn with the families who have lost their children."

In a statement issued on Tuesday, Human Rights Commission of Pakistan said the incident was a national tragedy. It should serve to open the eyes of anyone who still believed that the Taliban and Pakistan could coexist.

"Today is an extremely sad day for Pakistan. Our heart goes out to the families of the children whose lives have been cut short by this abhorrent act of terrorism."

The statement says while the militants were targeting an army-run school, it was a school for children. "It is not children who fight the Taliban. Yet the choice of target and heavy casualties leave no doubt that the massacre was aimed at killing as many children as possible."

"Nothing justified the brutal murder – not religion, or norms of armed conflict or common decency. But it is no secret that the killers and those who dispatched them to attack the school neither have respect for religious commandments or notions of civilised or decent behaviour. Targeting children made sense to them because they stand for blood-letting. The HRCP reiterates its firm belief that Taliban and Pakistan cannot coexist and anyone still harbouring any notions to the contrary is naive beyond belief."

Published in The Express Tribune, December 17th, 2014.
COMMENTS (1)
Comments are moderated and generally will be posted if they are on-topic and not abusive.
For more information, please see our Comments FAQ