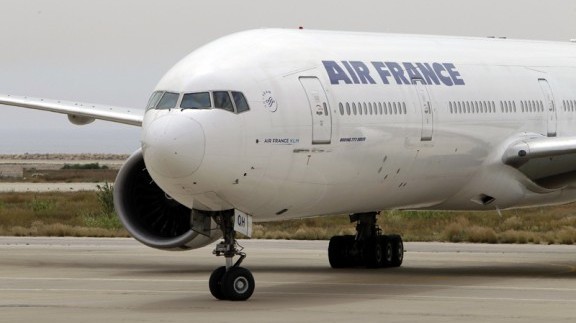 ---
LONDON: The ash cloud from the Icelandic volcano eruption that spread over Europe cost airlines more than 1.7 billion dollars in lost revenue.

Head of the International Air Transport Association revealed that carriers were losing 400 million US dollars per day at the height of the upheaval.

The sector has also been left to pick up additional costs like providing accommodation to stranded customers, food and alternative modes of transport.

He said that in Europe "governments must take their responsibility" and help the carriers.

European air travel is slowly returning to normal. Eurocontrol expects approximately 21000 flights to take place today.

Earlier on Wednesday, British air travellers were spared a further day of travel misery on Wednesday as aviation authorities ended a 5-day airspace shutdown caused by an Icelandic volcano ash cloud.

A British Airways flight arrived at London's Heathrow airport shortly before 10:00 pm (2100 GMT) Tuesday from Vancouver, the first to touch down at Europe's busiest air hub since authorities closed down the country's airspace last week.

"It's good to be back," said Neil Rodgers, the first passenger through the doors at the airport's Terminal Five. "As we were coming into land I was quite concerned as we were coming through the cloud," he added.

The reopening of Heathrow came after the Civil Aviation Authority (CAA) announced that restrictions on airspace in Britain would gradually be eased from 2100 GMT.

Transport Minister Andrew Adonis said all British airports could reopen and he expected them to remain open.

"The CAA has now established a wider area in which it is safe to fly, consistent with the framework agreed (Monday) by the EU transport ministers," he said.

The decision to lift the ban came as tensions mounted between airlines and the authorities, with BA showing its anger by sending flights to land at Heathrow despite restrictions still being in place. Other countries hit by the ash cloud shutdown -- including Belgium, France and Germany -- had already eased restrictions earlier in the day.

A spokesman for the airline said it thought the flight ban was "wrong" and added: "We think it is safe to land, we would not be putting passengers lives in jeopardy."

This prompted a warning from the CAA that airlines breaching regulations could face legal action.

"If anybody breaks the rules of the air, they could face investigation and possible prosecution," said a spokeswoman. One of BA's long-haul flights was diverted to Brussels, but others made it to Heathrow as the ban was lifted.

The end of restrictions will be a relief to the many Britons stranded abroad by the ash cloud, which closed down British airspace entirely at midday (1100 GMT) on Thursday.

Many were left facing arduous journeys by bus, train, taxi and ferry to get home. Restrictions had already been lifted early Tuesday in Scotland and northern England.

The Irish Aviation Authority also announced a phased lifting of flight restrictions from 2100 GMT but cautioned that this was subject to the ash cloud not moving over Ireland during the night.

The CAA said the "immense challenge" of the ash cloud travel chaos had been overcome by gathering top aviation experts from around the world to study the phenomenon. This led to new guidelines being issued on flying planes through the ash.

"The major barrier to resuming flight has been understanding tolerance levels of aircraft to ash," said the authority.

"Manufacturers have now agreed increased tolerance levels in low ash density areas."