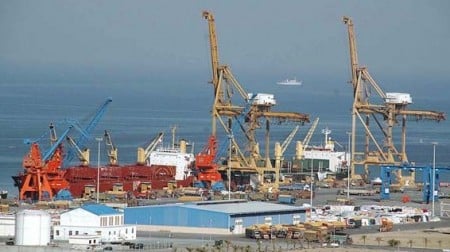 ---
ISLAMABAD: Chief Minister Balochistan, Nawab Muhammad Aslam Khan Raisani has said that the fully operational Gwadar Port would play a major role in boosting country's economy.

Nawab Raisani expressed these views while presiding over a high level meeting to discuss the modalities for transfer of 584 acres of naval land to the Gwadar Port Authority to make way for the establishment of Containers Terminal and Free Trade Zone inside the port area. He called upon the quarters concerned to take concrete measures for transfer of the required land to the Gwadar Port Authority at the earliest in order to expedite the development work at the proposed sites identified in the Gwadar Port MasterPlan.

He said that the Gwadar Port once fully operational would not only cater to the needs of country's imports and exports,especially bulk and containerised cargo but also provide transit facilities to the land-locked Central Asian Republics via Afghanistan.

Minister for Ports and Shipping, Babar Ghauri informed that the Gwadar Port Authority needed the naval land for making the port facilities functional including establishment of a modern containers terminal and areas for the Free Trade Zone.

Minister for Defence, Ch. Ahmad Mukhtar maintained that the issues raised by the Pakistan Navy with regard to the transfer of land to the port authorities should be taken into consideration.

He appreciated the efforts made by the Government of Balochistan for the provision of alternate land to Pakistan Navy for its strategic operations along the Balochistan coast.

The meeting discussed different options fortransfer of the land and it was decided that a sub-committee headed by the Chief Secretary Balochistan comprising the representatives from Pak Navy, Ministry of Ports and Shipping and the Government of Balochistan would select alternate sites.

The sub-committee would submit its report within two months for the consideration of the high-powered committee, which has been formulated on the directives of the Prime Minister.

Minister for Defence, Ch Ahmad Mukhtar, Minister for Portsand Shipping, Babar Ghauri, Minister of State for Industries and Production, Ayatullah Durrani, Chief Secretary Balochistan, Mir Ahmed Bakhsh Lehri, Secretary Defence, Lt Gen (Rtd) Syed Athar Aliand Secretary Ports and Shipping, Muhammad Saleem Khan besides Naval officials attended the meeting.
COMMENTS
Comments are moderated and generally will be posted if they are on-topic and not abusive.
For more information, please see our Comments FAQ