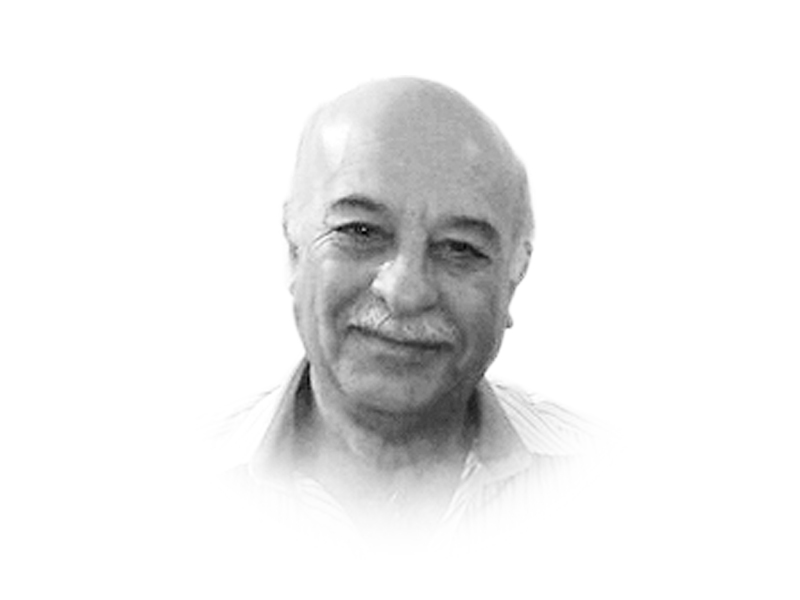 ---
Now let me get this straight. If the secretary of the ministry of foreign affairs of any country in the world is handed a draft of a declaration (by someone outside of the FO) to be made at the conclusion of talks between his chief executive (CE) and that of another country, would he blindly accept it and formalise it for signatures by the two CEs and disseminate it to the world's media?

Specially, mark, the CEs of Pakistan and India, two countries which had fought three and a half wars, and many more skirmishes along the border/ceasefire line; two countries which came close to at least two more wars; and which were constantly suspicious of the other's intents; two countries that opposed each other at international fora on any and all matters, even the most trivial, to the extent of appearing facile; nay churlish, even infantile to the rest of the civilised world?

For this is what my friend, the bright, and gentlemanly Shamshad Ahmed, a former foreign secretary himself, said he had been told by Riaz Khokhar, foreign secretary at the time that the Islamabad Declaration was signed by General Pervez Musharraf and Prime Minister Atal Bihari Vajpayee.

In Mr Ahmad's words spoken at a seminar on "Flashpoint of the South Asian Security — A Review of Political and Security Architecture in the sub-continent" at the Strategic Vision Institute, an Islamabad-based think tank, and as reported widely in the press: "The former foreign secretary (Mr Ahmad), who had then retired, recalled that on reading the statement he doubted that it was the language of the Foreign Office.

"The statement issued on January 6, 2004 after a meeting between the then President Pervez Musharraf and Indian Prime Minister Atal Bihari Vajpayee in Islamabad had included an assurance by the former (Musharraf) that 'he will not permit any territory under Pakistan's control to be used for terrorism in any manner'.

"'I asked the then foreign secretary, Riaz Khokhar, if the statement had been drafted by the Foreign Office and he told me that Tariq Aziz, a close aide of Musharraf, had given him that draft,' Mr Ahmad said.

"'This (terrorism accusations) has been a familiar narrative that India has been using against Pakistan since after 9/11, taking advantage of the global anti-terror sentiment and our own rulers' apologetic postures in the face of India's sinister campaign,' the former secretary said.

"'General Musharraf had in effect given an affidavit that there would be no cross-border activity from Pakistani side. This could be implied as an admission that whatsoever happened in the past was Pakistan's fault,' Mr Ahmad said."

First to Mr Khokhar, who was handed the text of the Declaration by Tariq Aziz. Does the FO have no internal Rules of Business, or/and indeed is it not its bounden duty and responsibility to carefully study any draft handed to it by whosoever and report back to the person concerned, indeed to the chief executive of the government, and point out the inappropriateness of the language and suggest alternative wording?

Have any of them stood up and disagreed with 'orders', giving reasons for doing so? Or are our babus just there for pushing paper and blindly following orders/instructions from on high, especially from those who wear army boots and carry swagger sticks, and their close aides? I have often asked this question and have never ever received an answer. The typical FO response to something that goes awry, or shall we say against the country's 'interests' is, simply, 'We are not aware', or 'So and so is to blame, not we'.

As to Mr Ahmad's assertion that Musharraf "in effect" gave "an affidavit that there would be no cross-border activity from Pakistani side". And that "this could be implied as an admission that whatsoever happened in the past was Pakistan's fault", I could not disagree more. One country giving another, especially a neighbour, an assurance (let's call it an affidavit) that there will be no cross-border 'activity' (let's call it terrorism) from its territory is exactly the thing to do.

Also, giving this assurance in no way means that "whatsoever happened in the past" was Pakistan's fault. It means just what it says about the future. However, as the newspaper Dawn noted in an editorial just three days ago: "It is no propaganda to say that militant proxies were encouraged by official quarters to use Pakistani soil to support an armed insurgency on the other side of the Line of Control, which some militant groups later decided to extend to the Indian heartland as well." So there. Time we pulled our heads out of the sand.

Let me immediately say that I am no admirer of the Commando's as his admirers will tell you! But one has to acknowledge that he re-started talks with our Indian neighbours despite his foolish Kargil adventure which put a full-stop to Pakistan's and India's progress on the path of peace upon which both the countries had embarked after the Male meeting between then Prime Minister Nawaz Sharif and his Indian counterpart Mr Atal Bihari Vajpayee in 1997. This was followed by the sagacious Atalji's bus trip to Lahore where he spoke so warmly of Pakistan at the Pakistan Monument in Lahore.

A short reminder: I hope readers recall the efforts of the Jamaat-e-Islami — whose former Amir Syed Munawwar Hassan breathed fire and brimstone threatening universal and domestic Qitaal just a week ago in Lahore — to scuttle the Indian PM's visit to Lahore on February 20, 1999 and the stern handling of the mobs by the then Shahbaz Sharif government in Punjab.

Which reminds me: the recent public rally at the Pakistan Monument of all places, mounted by the militant organisation Jamaatud Dawa (JuD) in which it too talked of the certainty of Ghazwa-e-Hind and freeing Kashmir by force of arms can hardly be helpful in pursuing peace with India, especially since the JuD is an internationally proscribed organisation. What else will the world think but that militants are encouraged by elements within our state structure?

Published in The Express Tribune, December 12th,  2014.

Like Opinion & Editorial on Facebook, follow @ETOpEd on Twitter to receive all updates on all our daily pieces.