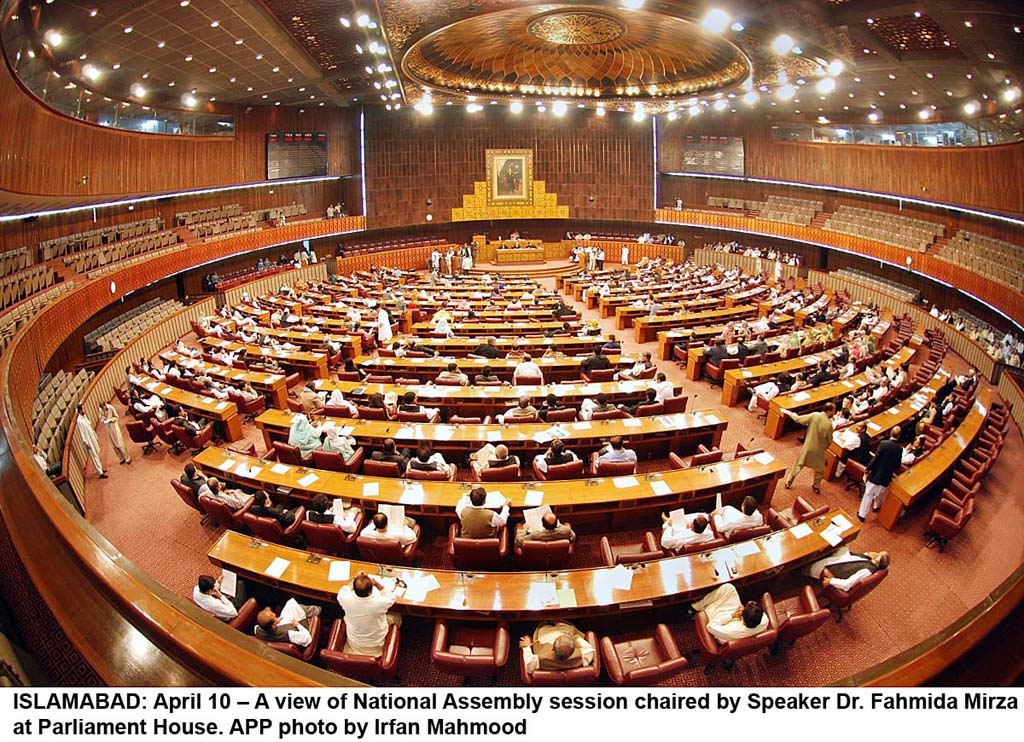 ---
ISLAMABAD: With almost half of the lawmakers remaining silent in the National Assembly (NA), men parliamentarians lagged behind women in doing legislative work in both houses of parliament, official record as well as research done by Free and Fair Election Network (FAFEN) shows.

Women parliamentarians both in the National Assembly and Senate apparently took keen interest in legislative affairs by putting maximum questions in parliament since the Pakistan Muslim League-Nawaz (PML-N) government came into power after the May 2013 elections.




Around 157 (46%) Members National Assembly (MNAs) excluding ministers did not ask any question on the floor of the house.  MNA Belum Hasnain of Pakistan Peoples Party (PPP) put 225 questions – the maximum queries posed by any lawmaker in parliament during the last two parliamentary years. Even 84 MNAs of the PML-N, 20 MNAs of the PPP and nine MNAs of the PTI did not speak on any issue during the period.

More than 26 (25%) senators did not put questions in the Senate where a woman legislator Syeda Sughra Imam took the lead by engaging herself in more legislative business by posing 137 questions and introducing five private bills.

PTI MNA Nafeesa Inayatullah, after Belum Hasnain, dominated over male lawmakers in the house by posing 191 questions.

By posing 121 questions Senator Talha Mehmood of Jamiat Ulema-e-Islam-Fazl (JUI-F) followed his colleague Senator Sughra Imam in the Senate while MNA Sahibzada Yaqub of Jamaat-e-Islami (JI) put 177 questions, becoming the third highest questioner behind MNAs Belum Hasnain and Nafeesa Inayatullah in the lower chamber of parliament.

Key senators of various political parties – PML-N's senators Rafique Rajwana and Zulfiqar Khosa, PPP's senators Farooq Naek, Babar Awan and Jahangir Badar, Awami National Party (ANP) Senator Afrasiab Khattak and Farogh Naseem and Shirala Malik of Muttahida Qaumi Movement (MQM) did not ask the questions from the treasury benches during the last 19 months.

More than 17 women who came on reserved seats remained silent in the National Assembly. MNAs Khalida Mansoor of PML-N and Sher Akbar Khan of JI were among five lawmakers who posed maximum questions in the lower house.

Senator Hari Ram, who represents minority communities in the upper house, did not speak on floor of the house.

MNA Belum Hasnain said: "legislation is my hobby."

She advised her peers to do their job fairly.

As a seasoned legislator, she recalled, the then speaker NA Amir Hussain was not very much cooperative as he rejected many of her proposed legislation.

Sahibzada Yaqub, who put maximum questions in the NA, said as legislative affairs take time to get prepared majority of members perhaps prefer their personal issues.

"It's lawmakers' basic obligation to engage themselves in legislative business – or they rather stick to their personal interest," he observed.

Published in The Express Tribune, December 11th, 2014.