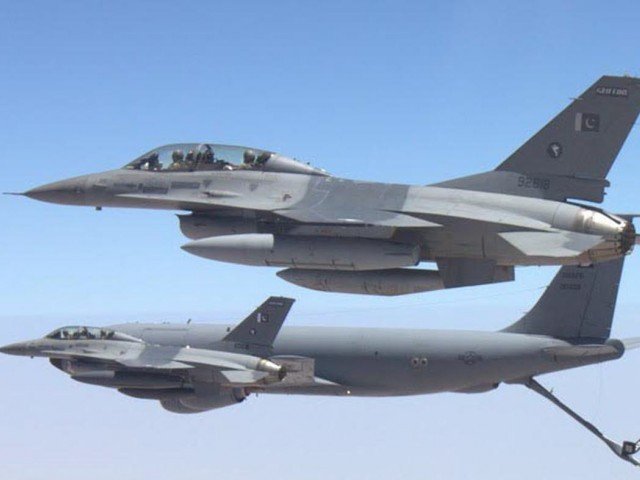 ---
PESHAWAR: Airstrikes have killed at least 30 militants, including "important commanders" of a local warlord, in North Waziristan where the military launched a major offensive this year, officials and militant sources said Monday.

The target of the late Sunday strikes, in the Datta Khel area of North Waziristan, were local warlords Hafiz Gul Bahadur and his ally Sadiq Noor, security officials said.

Both are aligned with the feared Haqqani network and are accused of sending fighters and suicide bombers against US and Nato troops in neighbouring Afghanistan.

"At least 30 militants have been killed. Dozens of fighters and commanders were gathered for a joint meeting of both the groups," a militant source told AFP.

An intelligence official in the area confirmed the strikes and the death toll.

There were unconfirmed reports that Bahadur and Noor were among the dead but a second security official told AFP they were still trying to verify the information.

"The only thing I can confirm is that the target of airstrikes was Hafiz Gul Bahadur," the official said.

A second militant source, a senior commander, told AFP that the two were seen in the area earlier on Sunday but it was not clear whether they had escaped the attack.

"Seven important commanders of Gul Bahadur and Sadiq Noor were among those killed in the airstrikes," he said.

Local residents said militants have sealed off the area to outsiders.

Bahadur, a prominent local warlord once seen as "pro-Pakistani" but who has switched sides in the past, is angry over the military offensive in North Waziristan.

He was the first militant commander to declare a ban on polio vaccinations in June 2012, which was later endorsed by tribesmen and other militants groups in the rest of the tribal districts and in the adjacent Khyber Pakhtunkhwa province.

Their ban has risked the health of tens of thousands of children, particularly in the northwest, officials say.

North Waziristan is one of the seven semi-autonomous tribal districts that border Afghanistan. It has been a hub for al Qaeda and Taliban militants since the early 2000s.

The Pakistan Army launched a major offensive in the district in June and says it has killed more almost 1,600 militants so far, with 126 soldiers losing their lives.
COMMENTS (1)
Comments are moderated and generally will be posted if they are on-topic and not abusive.
For more information, please see our Comments FAQ