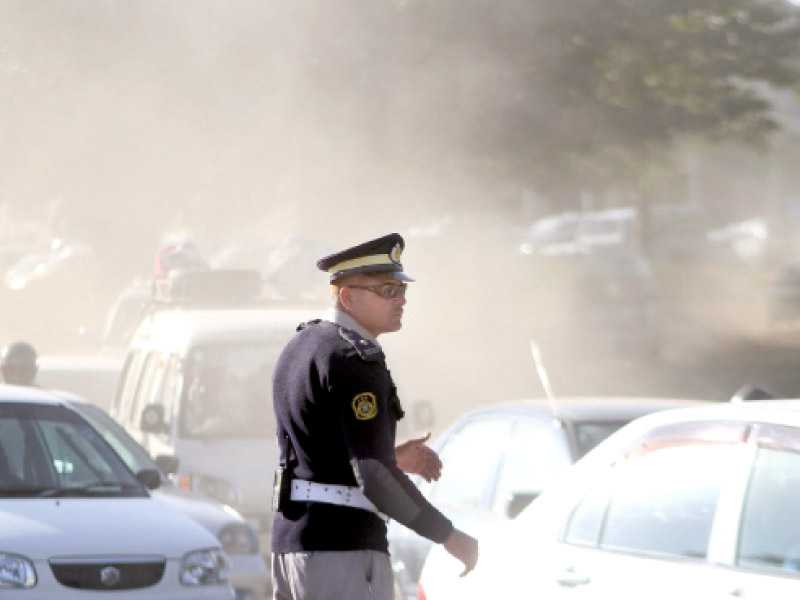 ---
ISLAMABAD:



The out patient departments of the capital's hospitals are flooded with patients as common flu, seasonal allergies, pneumonia and chest infections have become common with the change in weather.




Health experts blame the persistent cold and dry weather coupled with dust and air pollution due to the ongoing construction work in the city for the surge in patients visiting hospitals.

Talking to The Express Tribune, Dr Asadullah Nemati, a senior chest specialist at Pakistan Institute of Medical Sciences (Pims) shared that he alone saw around 70 patients everyday with complains of common cold, allergies and upper respiratory chest infections. "They usually come in with sore throats, running nose, watery eyes, sneezing, high grade fever and body aches, among other ailments," he said, adding that this condition prolongs for more than a week.




"This year I received a number of patients whose illness prolonged more than a week so much so that they had to take antibiotics repeatedly".

Nemati stressed that rain was the need of the hour as it would help settle down dust particles suspended in the air.

"The colder it gets, it is badly affecting the health of people," he said.

He advised people to keep on washing their eyes and face with lukewarm water and wear face masks while moving around in the city.

"It is better to add eggs, chicken, green tea in daily diets during this season to keep your body warm and protect from the dry cold," he said. A senior physician at Polyclinic hospital who wished not to be named said it was expected that the ongoing construction work on the metro bus would finish by the end of the year but it has now been extended.




"Every morning there is a thin layer of dust everywhere in the capital which along with this dry spell is badly affecting people's health making it difficult to inhale fresh air," he said.

He said on an average, around 80 patients come in every day complaining of common cold, nose congestions, bronchitis.

"Most of these patients are the one who leave their homes early in the morning and come back after sunset," he said.

He suggested that there is a need to create awareness among people that they should take precautionary measures while crossing areas which are under constriction and should cover their heads and face properly.

When contacted, Dr Ghulam Rasul, chief meteorologist at Pakistan Metrological Department said there are very little chances of rain this month. "This time, Pakistan will have a dry winter season with few showers and the season will prolonged till March," he said.

Rasul further said it is expected that in Islamabad and Rawalpindi, night temperatures would fall below zero by the end of December.

However, the northern areas would receive snowfall like they usually do in winters, he said.

"Considering the weather situation, it is expected that the number of common flu and allergy cases would increase in the near future," he predicted.

Published in The Express Tribune, December 7th, 2014.