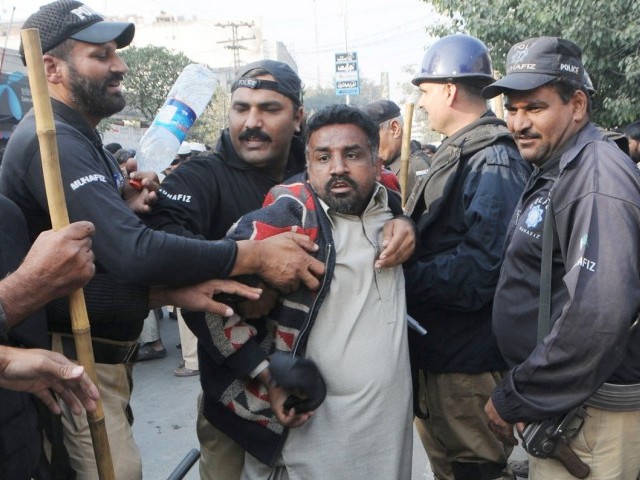 ---
LAHORE: An inquiry committee formed to probe the Punjab Police's attack on blind protesters in Lahore confirmed that the protesters were in fact manhandled and has suspended the concerned SHO.

A group of blind men were protesting  in favour of a job quota increase in the government sector outside the Lahore Press Club on Wednesday.

The inquiry committee, headed by SP Headquarters Umar Saeed, suspended SHO Qila Gujjar Singh Raffiullah while DSP Abdullah Jan was made the officer on special duty (OSD) with immediate effect.

Earlier, CCPO Lahore Amin Wains had suspended five police officials: two ASIs, Muhammad Siddique, Muhammad Ansar and three constables, Mustafa Ahmad, Ayyub and Siddique Akabar.

The provincial police chief asked the CCPO Lahore to submit the detailed report after completing a thorough inquiry into the unfortunate incident.

He said special people were equal and respectable citizens, and any inhuman attitude towards them will not be tolerated, as it is a violation of police conduct.

However, Punjab government spokesperson Zaeem Qadri denied media reports claiming that the protesters were baton-charged.

Protest against manhandling of blind protesters

"Yesterday the blind were hit by Gullu Butts. I can't even begin to explain my feelings when I saw the images on screen. I was disgusted at this government," said wheelchair-bound protester Rehmanullah.

Rehmanullah, 29, was one of the few hundred protesters gathered on Mall Road on Thursday to protest against the incident involving manhandling and beating up of visually impaired protesters by the Punjab Police on Wednesday.

A hawker by profession, he held a flyer that read, "We condemn violence against disable Pakistanis. There is no justification over what happened yesterday. I have never seen such violence against the disable in this country".

The incident had sparked widespread condemnation with the government calling for a transparent investigation of the incident.
Flags of several parties, including the Pakistan Tehreek-e-Insaf, Pakistan Awami Tehreek and the Pakistan Muslim League-Quaid were held by protesters.

Slogans condemning the police and Punjab Chief Minister Shahbaz Sharif were also raised during the two-hour long protest.

Several members of the PTI also chanted slogans against the incumbent government.

"We are here to condemn the incident, which took place on Wednesday. There is going to be zero tolerance for this injustice," said Tanzeela Imran, PTI's Lahore Women Wing's vice president.

COMMENTS (1)
Comments are moderated and generally will be posted if they are on-topic and not abusive.
For more information, please see our Comments FAQ