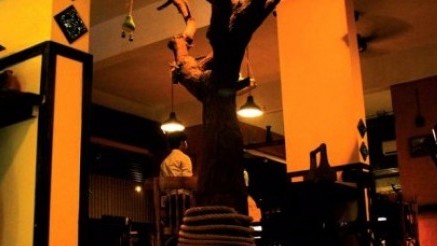 ---
KARACHI: This is one cafe that will let the customers decide the ingredients.

N'eco's Nature Store and Café is a three-in-one food haven that is a cafe, a deli and a store all in one. Nilofer Saeed came up with the idea for the venture because she felt that hardly any restaurant offered pure, natural and organic food. The menu changes according to the season, with emphasis on fruits and vegetables that are currently in season so that all dishes are made with the freshest of ingredients, said the cafe's merchandising director, Mariam Saifuddin.

Who decides what products are organic?

The customers, Mariam said, adding that this was the logical step since no board or authority in the country monitors the issue. Chemicals are a no-no, with all unnatural substances on the banned list of ingredients.

Meanwhile, the list of specialties includes Himalayan apricots and dry fruits from Skardu and Gilgit. Nilofer already has to her credit Copper Kettle (CK) and Hobnob.

If you want "soul food," head to CK, if you're a chocolate fanatic go to Hobnob, but if you want to be healthy then N'eco's is the place for you, she said. As a store, N'eco's offers seasonal, farm-fresh organic and natural products, including grains, dairy, meat, fruits, seafood as well as bath and beauty products such as oils, candles and other lifestyle merchandise.

The deli part focuses on a host of take-home products such as tapenades, pesto sauces, jams, salts and sugars as well as muffins, tarts and breads. The cafe's menu features soup, salads and sandwiches.

There is also a day-long breakfast menu. While brands such as Zoya Herbal, Roots, Sungold and others are available, the cafe also creates its own organic merchandise, for instance, oil, dry fruit products and cosmetics. Amna Sana, who was an apprentice at the Italian Culinary Institute in Costigliole D'asti, Italy, is one of the chefs. Food is a labour of love, she said.

Where is it?

N'eco's is located in Bukhari Commercial Area, 8C, Lane number 1, Phase VI, DHA. It is opening on the Earth Day, April 22.