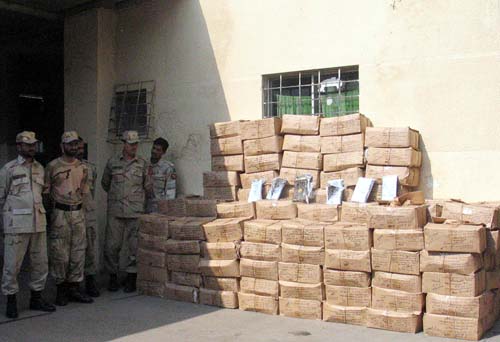 ---
QUETTA:



A sizable chunk of the heroin and opium produced in Afghanistan makes its way to Balochistan, increasing the ambit of illicit drug use in Pakistan, a senior UN official said.




Cesar Guedes, country representative of the United Nations Office on Drugs and Crime (UNODC), told The Express Tribune that Balochistan is part of the transitional trade route as it shares long borders with Iran and Afghanistan — and has a vast coastline which is exposed to international criminals. The province offers perfect itineraries for drug peddlers to access the international markets. "These criminals operate across the Pak-Afghan border and try to access the international markets," he said.




"Afghanistan nurtures 90% of the world's poppy fields and Pakistan is drastically affected being the neighbour of the war-torn country," he told The Express Tribune. "Although Pakistan is not the prime destination for these drugs, at least 40% of raw heroin and opium stays in Balochistan for one or another reason, increasing the illicit use of drugs in the country," Cesar added.

The country representative of UNODC mentioned that the measures taken by Pakistan against export of opium and the illicit use of drugs have received UN recognition.

"The performance of Pakistan is internationally acknowledged, however, more needs to be done to curb the activities of criminals who have been trying to use Balochistan as a transit route," he stated.

Giving an insight into the demographical differences, Cesar said that Iran is not affected by this drug trade the way Pakistan is because of Iran's zero tolerance policy on drugs.

However, at the same time, Iran does not share such a huge border with Afghanistan like Pakistan does.




Commenting on the issue of human trafficking, UNODC country head said smuggling of migrants is a major issue as people not only from various parts of Pakistan but also from war-torn Middle Eastern countries — Iraq, Syria and Palestine — try to use the routes of Balochistan to travel to Europe and Australia for better economic opportunities.

Published in The Express Tribune, December 2nd, 2014.
COMMENTS
Comments are moderated and generally will be posted if they are on-topic and not abusive.
For more information, please see our Comments FAQ