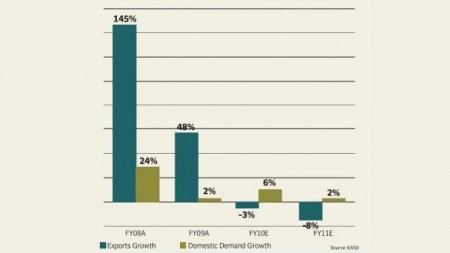 ---
KARACHI: For the first time in three years local demand growth of cement has outstripped the export growth.

This is mainly due to improvement in construction activities and strong agricultural growth in the first three quarters of fiscal year 2010 against the same period last year, according to KASB Securities.

Cement volumes are up 13 percent in the first nine months of the fiscal year 2010 against the same period last year due to export resilience on the back of access to new markets. Demand is well above start of fiscal year targets and has led increase in utilisation of cement (including exports) to 75 percent, 8.45 percent up from 67 percent in the same period last year, said KASB Securities analyst Farrah Marwat.

Cement prices have recovered as of March 2010, with North prices up to Rs270-280 per bag from Rs250-270 per bag and South prices up Rs10 per bag.

Cement consumption is closely linked to agri growth but for a while hefty private sector development programme (PSDP) during 2002-2007 shifted the onus to government projects.

However with lower PSDP disbursement in fiscal year 2009 and two years of strong agri income growth, agri growth has been the key driver recently of robust domestic cement volumes.

Margin recovery will keep demand and price recovery from increasing because costs will continue to grow, said KASB analysts.