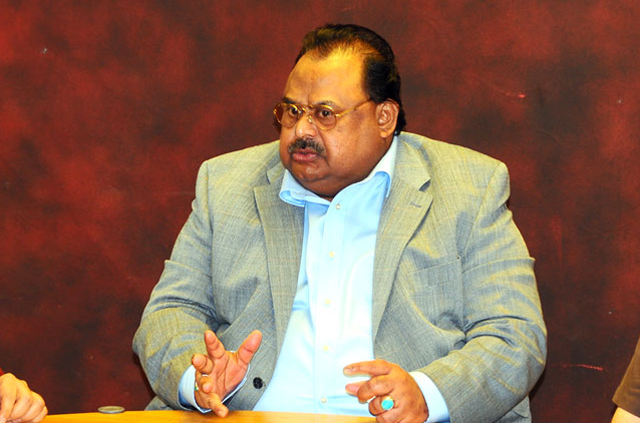 ---
KARACHI:



MQM leader Altaf Hussain disclosed on Friday that Islamic State of Iraq and Sham (ISIS), which is also known as Daish or by shorter acronym IS, has started taking roots in Pakistan which can entail far worse situation here than Rwanda and other African countries.




"Army alone cannot control the situation. We all Pakistanis have to play our part, otherwise the situation will spiral out of control and Pakistan may witness civil war and genocide," he said while addressing the media by telephone at a press conference at the party headquarters Nine Zero.




The MQM leader warned the Pakistan government, political parties, youth and civil society members to be alert against the extremist organisation, calling it more dangerous than Taliban and al Qaeda.

"You can find flags of this organisation right from Sadiqabad (southern) Punjab to Islamabad. It originally came to being on October 15, 2006 in Iraq, but now many militant groups and some Taliban and al Qaeda leaders have joined it," he said, appealing to the authorities concerned to convene all parties conference (APC) on this issue.

"Around 10 years ago, no one believed me when I made a hue and cry against hatcheries of Taliban and extremist groups in Karachi. The then government and leaders of political parties turned a deaf ear to me, but it later proved (to be correct) when these militants started their activities in the city," he said.




Briefing about the organisation, he said that Abu Musab al-Zarqawi initially led the organisation in Iraq and militant organisations from other areas including South Western Iran, Iraq, Syria, Turkey and Afghanistan joined it. Later, when Zarqawi was killed, its shura council appointed Abu Omar al-Baghdadi as its head under the name of Abu Abdullah al-Rasheed al-Baghdadi. In 2010, the consultative or Shura council of the militant organisation announced the death of Abu Omar and appointed Abu Bakar al-Baghdadi as its new head, who has integrated different militant groups and wants to start their activities in Pakistan.

"Army and its intelligence agencies should also mobilise the network and we are ready to help them," he said, offering the army his party's help in the mission.

Altaf, while recalling the existence of Taliban in this region said that America created Taliban after the cold war. "Not only America, but Saudi Arabia and Pakistan also supported Taliban against the Soviet Union," he said, adding that after the disintegration of the Soviet Union, the US pulled out of Afghanistan by ignoring the militants they had created.

"Since there was no one to financially support them, these Taliban started looting and plundering the people by committing bank robberies, kidnapping for ransom, extortion and occupation of lands in order to generate funds," he said, adding that thousands of innocent people and personnel of police and army were killed and important installation were attacked by these extremists. "They want to impose their self-styled sharia at gunpoint."

MQM leader stressed the need to impart awareness among the people against the ISIS.

Published in The Express Tribune, November 1st, 2014.
COMMENTS (6)
Comments are moderated and generally will be posted if they are on-topic and not abusive.
For more information, please see our Comments FAQ