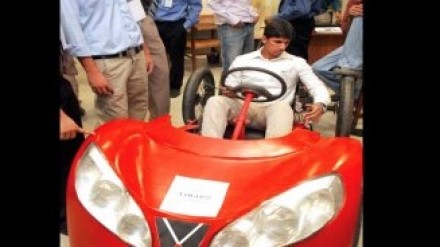 ---
KARACHI: Students of the NED University of Engineering and Technology's department of electronic engineering took it upon themselves to tackle the national shortage of energy by suggesting solutions through their projects displayed at the 5th annual Student Project Exhibition and Competition (SPEC) 2010 on Monday. "Two of our solar energy projects were picked up by the industry last year and are still being used for commercial purposes," said the head of the electronics department, Dr Attaullah Khawaja.

This is the reason why such exhibitions are held, so that students get a platform to not only display their potential but also to know the industry and be known in the market, he added. Students from a number of universities, including the Foundation for the Advancement of Science and Technology, the National University of Science and Technology and Ghulam Ishaq Khan univeristy as well as some arts colleges, participated in the day-long exhibition that was nothing short of a vibrant light show.

"Engineering is a very practical field, and the more things we make the more our skills are strengthened," said Ali Ahmed, a first-year student. Stalls sparked with electric currents and solar-powered street lamps designed by some students as alternative power options. Meanwhile others tested their knowledge and skills through atypical ideas such as geo-thermal power generators, water-powered turbines, wireless robots, mobile phone jammers, airplanes, electronic speaking hands, intelligence systems and unmanned aerial surveillance projects. Alternate energy for Pakistan, however, remained the primary concern for students and teachers alike.

"We made a solar UPS while considering the shortage of electricity in the country," said one group of enthusiastic participants. Imran Haider, a third year student at PAF Karachi Institute of Economics & Technology, stood proudly beside his robot. "It's a learning experience," said Haider. "You also get new ideas and learn about their applications from fellow students." Despite the practicality of the projects displayed at the exhibition, some people felt that the gap between the academics and existing scope of engineering across the country has yet to be bridged. "This is because the industry does not come to help out students," claimed Professor Dr Talat Altaf, the dean at NED, who was of the belief that the people in the engineering industry should not complain of a shortage of original ideas if they were unable to promote them.

"All that they want is a successful project to be handed over to them without understanding that they will have to invest in it. They must take failures first in order to get a polished product from the students," Altaf said. Around 7,000 students and guests were expected to attend the exhibition, which included a career counseling seminar for students.