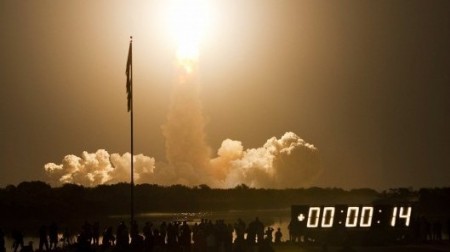 ---
CAPE CANAVERAL: The US space shuttle Discovery was on its way back to Earth early Monday after a successful supply mission to the International Space Station, leaving NASA's shuttle program with just three more flights.

The crew aims for touchdown at NASA's Kennedy Space Center in Florida at 8:48 am (12:48 GMT) with no threat from the huge ash cloud from an erupting Icelandic volcano that has shut down air traffic over Europe, the US space agency said.

Over a 14-day mission, Discovery's seven-member crew delivered nearly eight tons of scientific equipment and other supplies intended to fortify the orbiting science laboratory for operations beyond NASA's final shuttle launch. Once the shuttles are retired, with Discovery's final flight on September 16, the United States will rely on Russia to take astronauts to the station until a new fleet of commercial space taxis is operational.

President Barack Obama reiterated this controversial policy during a visit to the shuttle's Florida landing site last week.

Monday's forecast at Cape Canaveral includes overcast skies and a chance of showers, but shuttle commander Alan Poindexter and his crew have a backup landing opportunity in Florida later in the morning at 10:23 am (1423 GMT. The astronauts took power conservation measures Sunday in case the meteorological conditions delayed their return by a day.