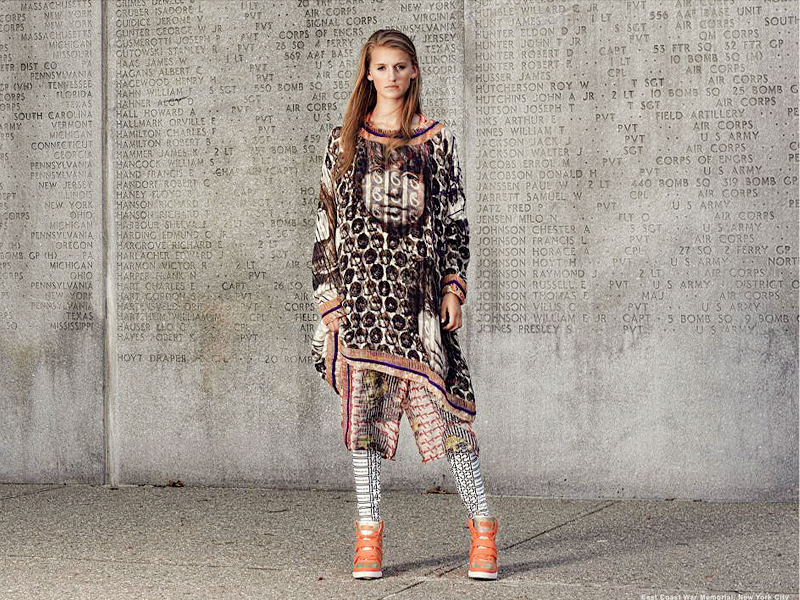 ---
KARACHI:



We've often looked at Ammar Belal's anglicised poster-boy looks and edgy, rockstar fashion and envisioned him as a gora designer. However, the designer's recent debut at the New York Fashion Week (NYFW) asserts his very Pakistani roots.

Ammar's 12-outfit showcase, '1432', is named after the number of prisoner Amanatullah Ali who has illegally been detained at the Bagram prison for the past 10 years. "There are so many more like him and our government needs to fight for them rather than assume ignorance," explains Ammar.




These are more than just pretty clothes – although Ammar's glammed-up take on sportswear silhouettes is certainly beautiful – they are socially-charged sartorial statements, worn on the NYFW runway by waif-thin Caucasian models.

"I particularly chose Caucasians because I wanted to emphasise the contrast between the message within the clothes and the oblivion of the wearer," explains Ammar. "The on-trend over-sized silhouettes emulate hip-hop culture's revolutionary messages against social prejudices."




There are many more nuances within this collection, centred around the American occupation of Afghanistan, drone attacks and the heart-rending consequences of the war on terror. "A lot of times, we base our opinions on whatever the media feeds us," observes Ammar. "The flyer that accompanied my collection had links that people could search up on the Internet and realise what's happening. They need to think before they judge."

Ammar's design philosophy has, of course, always been unabashedly bold. Now, he may be a Parsons MFA graduate, part of a prestigious entourage that includes the likes of Donna Karan and Marc Jacobs, but did he think it wise to dabble with such a controversial theme at the very onset of building his international career? "The beauty of art – through fashion, or otherwise — is that you can tell a story and instigate an argument without necessarily stating your own opinion. Besides, over here, what people really appreciate is a collection that transcends fashion and says something that they remember."

Perhaps this was what bowled over Donna Karan at the Parsons exhibit, prompting her to declare it to be her 'favourite collection' and trying on a sweatshirt dress. "She tried on the 'Nabila drone jacquard' which has the face of one Nabila Rehman – whose family suffered drone attacks in Waziristan – digitally printed in the centre. The dots surrounding her face are actually digital prints of drone-heads. The back and both sleeves are different, with an oversized drone actually outlined on one sleeve. I've used chiffon with paisleys embroidered on it, but from afar, the paisleys look just like tears."

'1432' is a dark, yet scintillating, complicated mixture of print upon print upon print, with umpteen layers of hand-woven organzas, cotton-silks and jamawars forming the canvas. Digitally-printed on them – and printing on textured fabric is no mean feat – are drones, faces, letters written by heartbroken mothers to their illegally imprisoned sons and shocking statistical data related to the ongoing 'war on terror'. The images are by photographer Asim Rafiqui and traditional marori and dabka, used in the most untraditional manner, accentuates some of them.

"I met families who had suffered and collected data with the help of my sister Sarah Belal, a criminal lawyer who actively works for human rights. I was adamant that this collection would be created completely in Pakistan. It's something I want to continue doing. Now that I am working in the West, I know the kind of embellishments and fabric that Western design houses are interested in," he says.

His other immediate ambitions include working in an international design-house to gain more experience and taking '1432' forward. "I want to tell more stories through design; stories that no one has written before and those that the government chooses to ignore. This is my way of doing that."

Maliha Rehman is a fashion and lifestyle journalist with an obsessive, compulsive need to write. Log on for more updates on Twitter @maliharehman.

Published in The Express Tribune, September 12th, 2014.

Like Life & Style on Facebook, follow @ETLifeandStyle on Twitter for the latest in fashion, gossip and entertainment.