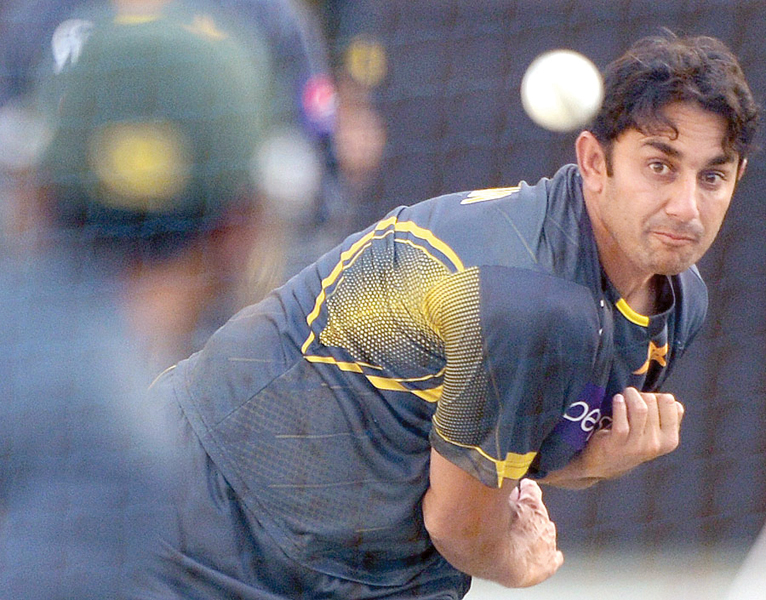 ---
Pakistan's ace off-spinner Saeed Ajmal has been suspended from international cricket after tests found his bowling action was illegal, the International Cricket Council (ICC) said Tuesday.

Ajmal, the world's number one bowler in one-day internationals, was suspended "with immediate effect" following tests carried out by ICC's accredited team in Brisbane last month.

The off-spinner's bowling action was reported by match officials during Pakistan's seven-wicket loss to Sri Lanka in the first Test in Galle last month.

According to a press release on ICC's website, the analysis revealed that all his deliveries exceeded the 15 degrees level of tolerance permitted under the regulations.

Ajmal can apply a re-assessment after he has modified his bowling action in accordance with ICC rules.

While speaking to reporters in his home town of Faisalabad, Ajmal blamed his illegal action on a "not usual" elbow and vowed to return by next year's World Cup.

The bowler dismissed the indefinite ban as "not an issue" and said he would appeal soon.

"My elbow is not usual so that's why it seems that I bend it more than the normal 15 degrees allowed. We will go into appeal soon," he said.

"I will be in action in the World Cup next year, that's my resolve."

Reactions

Pakistani and international former cricketers have been weighing in their thoughts on the suspension.


Make no mistake that bowling a Doosra and reverse swing are brilliant skills.. Do we want the Doosra banned?

— Dean Jones AM (@ProfDeano) September 9, 2014
Wow - Ajmal banned! Never nice to see fellow professionals going through a tough time...hopefully he's back soon!

— Kevin Pietersen🦏 (@KP24) September 9, 2014
Sad to hear of Ajmal's ban... I can possibly understand the doosra but offbreaks? I hope he can correct his actions in time for CWC'15

— Dav Whatmore (@dfwhatmore) September 9, 2014
I will help and support saeed ajmal to the best of my ability if required

— Saqlain Mushtaq (@Saqlain_Mushtaq) September 9, 2014