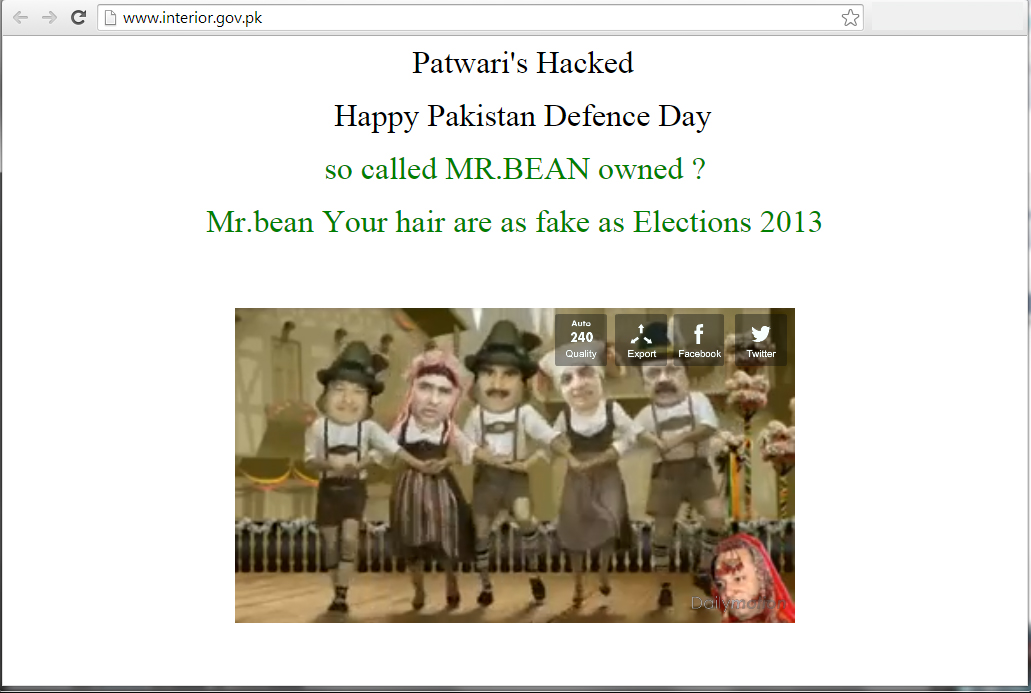 ---
Hactivists seem to have continued their week long campaign against the government, hacking and defacing the website of Interior ministry on Saturday.

The hacked website featured a short message for Interior Minister Chaudhry Nisar Ali Khan that claimed his hair was as fake as the May 2013 elections. Counter to tradition, the hackers did not leave a note claiming responsibility for the hack.

However, AnonOpPakistan tweeted to claim the hacking.


Anonymous Op Pakistan | Target: DEFACED - http://t.co/6uDJdKpcXo - Pakistan Interior Ministry | #OpPakistan #Anonymous #IslamabadMasacre

— Operation Pakistan (@AnonOpPakistan) September 6, 2014


In addition to the message, a three-minute long video by Ghori303 was also featured on the page titled "N-League Nooray". It featured faces of Chaudhry Nisar, Abid Sher Ali, Khawaja Asif, Khawaja Saad Rafique and Rana Sanaullah pasted above other characters, to mock them.

The hacking  follows a week of hacking and distributed denial of service (DDoS) attacks on a number of government and military websites by hactivists who identified with the hacking group anonymous and the hacking team of Pakistan Haxors Crew. Some media websites were also targeted.

They, however, during the week, had apologised for targeting military websites, noting that it was done in error.
COMMENTS (6)
Comments are moderated and generally will be posted if they are on-topic and not abusive.
For more information, please see our Comments FAQ