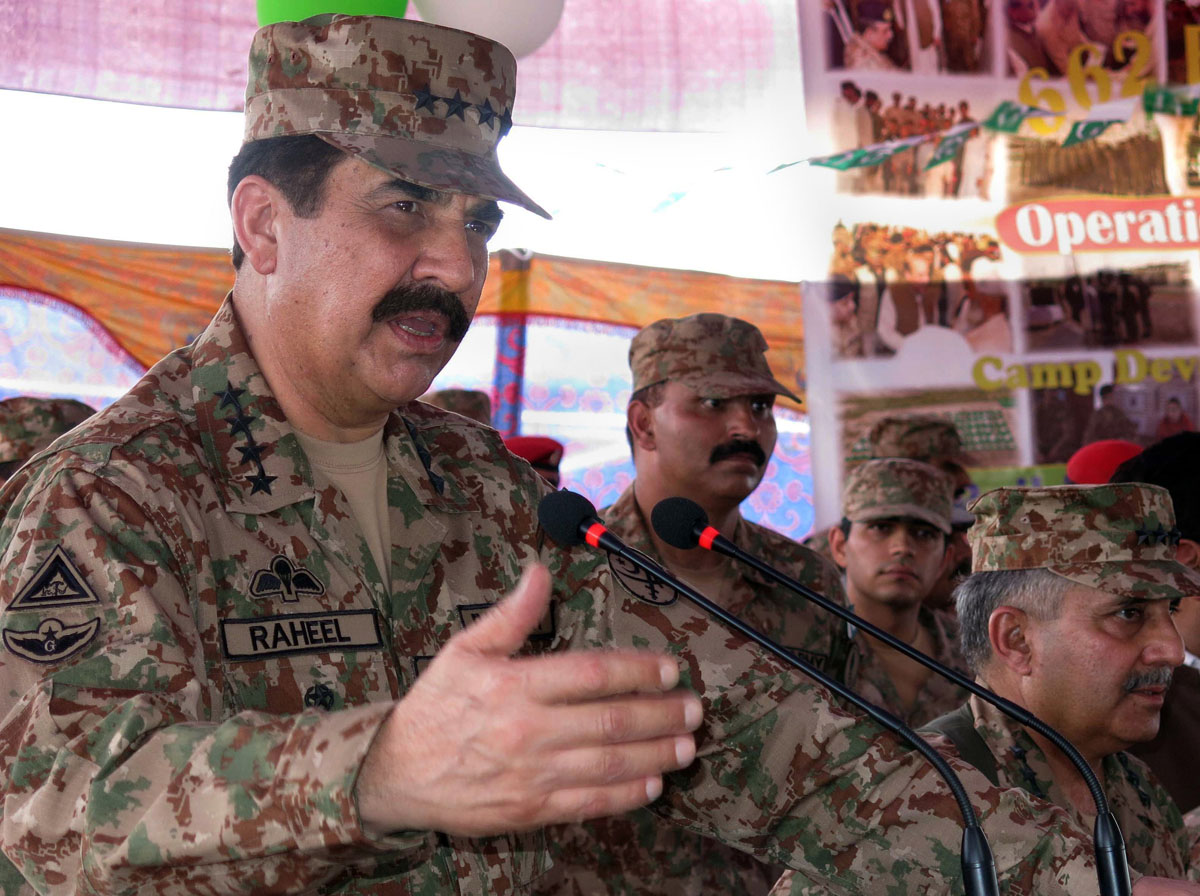 ---
MIR ALI: Chief of Army Staff General Raheel Sharif reiterated on Saturday that elimination of terrorism was a national undertaking and only with sustained focus of the entire nation, can jointly accomplish the objective of a terror free Pakistan.

According to a release from the Inter-Services Public Relations (ISPR), the Army chief visited troops stationed in Mir Ali, North Waziristan Agency to celebrate Defence Day.

Gen Sharif expressed his satisfaction over the achievements and progress made so far in Operation Zarb-e-Azb. He acknowledged the sacrifices and valour of the soldiers, while appreciating the contribution of the aviation and intelligence units.

The army chief emphasised that the operation will eliminate terrorists from these areas and from across the country, followed by complete rehabilitation of the affected areas. The COAS also directed that terrorists and their affiliates should not be allowed to return to areas once these are cleared by the security forces.

He appreciated the wounded and those who have lost their lives while battling terrorism.

The army chief directed that pre-emptive sweeping operations in major cities by special integrated security teams will continue to kill and apprehend terrorists.

The army chief also visited an IDP camp at Baka Khel in Bannu.

CJCSC hosts reception on Defence Day

The Chairman Joint Chiefs of Staff Committee General Rashad Mahmood hosted a reception on Saturday commemorate Defence Day of Pakistan at the Joint Staff Headquarters. President of Pakistan Mamnoon Hussain was the chief guest.




While addressing the audience, the President said that "it is a Day when we pay homage to our heroes and gallant sons from Armed Forces who have remained steadfast and showed us the path of honour and glory by rendering ultimate sacrifices. Our brave officers and soldiers alongside proud people of Pakistan have set unprecedented examples of heroism and resilience in their fight against militancy. The sacrifices of Armed Forces in operation Zarb-e-Azb can never be forgotten."

"The nation, aware of the significance of this operation, acknowledges the role being played by our Armed Forces. I reiterate our national will and determination to eliminate terrorism in any form and manifestation with full might of the state institutions."

The President further said that "We believe that stronger defence of a country deters any aggression. Nonetheless, we yearn for peaceful resolution of all outstanding issues including the core issue of Jammu and Kashmir with our neighbour; which will enable both countries to focus their energies on alleviating the sufferings of their impoverished peoples."

At the end, the President paid rich tribute to the officers, soldiers, sailors and airmen of Armed Forces for rendering supreme sacrifices during different hours of national ordeal.

"With the strong resolve of the people of Pakistan and unwavering support of our Armed Forces we would be able to surpass all the challenges being faced by the country."

Chairman Senate, Federal Ministers, Services Chiefs, Ambassadors of various countries in Islamabad and other senior serving civil and military officers attended the reception.