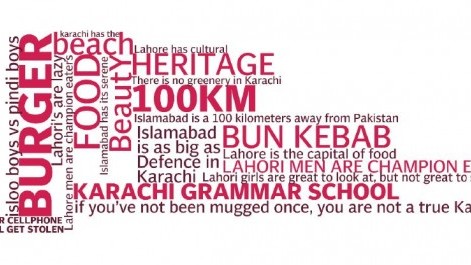 ---
KARACHI: The long-running debate between which city is cooler: Karachi, Lahore and Islamabad always has the same points.

Karachi has the beach, Lahore has its rich cultural heritage and Islamabad has its scenic hills. Residents of the cities are as stereotyped as the cities themselves. We take a look at the cliches about the three major cities of Pakistan.

KARACHI

If you have not been mugged/robbed once, you are not a true Karachiite

Every Karachiite has a story about being mugged or having their house robbed. The stories range from being morbid and truly scary to ludicrous (robbers telling their victims that they think of them as their sisters/brothers). Those who haven't gone through either experience are always scared that it may come true.

Karachi Grammar School  the school where students are taught to think they are better than others

This is definitely the case with some Grammarians, but to be fair, aren't there some students in every school who think that they are superior to others?

Never take your cell phone out in public, it will get stolen

One has to agree with this after all, no one wants to become a true Karachiite by getting mugged for a Rs5,000 phone.

There is no greenery in Karachi, only grey

The cliche is true when comparing Karachi's landscape to Islamabad, but the city now has tons of parks. The grey is now spotted with green courtesy the few parks that have opened up.

LAHORE

Lahori girls over-dress

Compared to residents of Karachi and Islamabad, Lahore's girls are always ahead of the pack when it comes to dressing up. But it is their penchant for fashion that has made Lahore the hub of street chic.

Lahore is the capital of food, and nothing else

False! Lahore is a jewel for someone seeking a cultural experience. Go to the old parts of the city and you will be amazed at what you can find.

Lahori men are champion eaters

Lahoris do enjoy eating – a minimum for an order of Zingers is two - but the same can be said for certain Karachiites and Islamabadis!

Lahoris are lazy … very lazy

While for several decades it was quite true that Lahoris went to work late and left early, this has changed with the amount of corporatisation in Lahore.

ISLAMABAD

Islamabad is as big as Karachi's Defence

Islamabad is small compared to Karachi, but it is growing at a rapid rate and gone are the days when one could drive from one end of Islamabad to the other in 20 minutes.

The city for the newlywed and nearly dead

This cliche would have been true 6 years ago. But recent visitors to Islamabad have found that the city was lit up at eleven pm and restaurants (yes, it is plural and no longer is there only Pappasallis in Islamabad) packed till late on weekdays.

Islamabad is 100 kilometres away from Pakistan

This oft-repeated line used to signify the disconnect between the political elite in Islamabad and the 'masses' in the rest of the country. Sadly, the frequent bombings and protests in Islamabad have put paid to that.

Isloo boys vs. Pindi boys

the great divide While it may be true that boys in Islamabad are more 'westernised' than the males in Pindi, who are more in touch with their desi roots, it really depends on your definition of cool. It is the inane burgers vs. mailas debate all over again.
COMMENTS (7)
Comments are moderated and generally will be posted if they are on-topic and not abusive.
For more information, please see our Comments FAQ