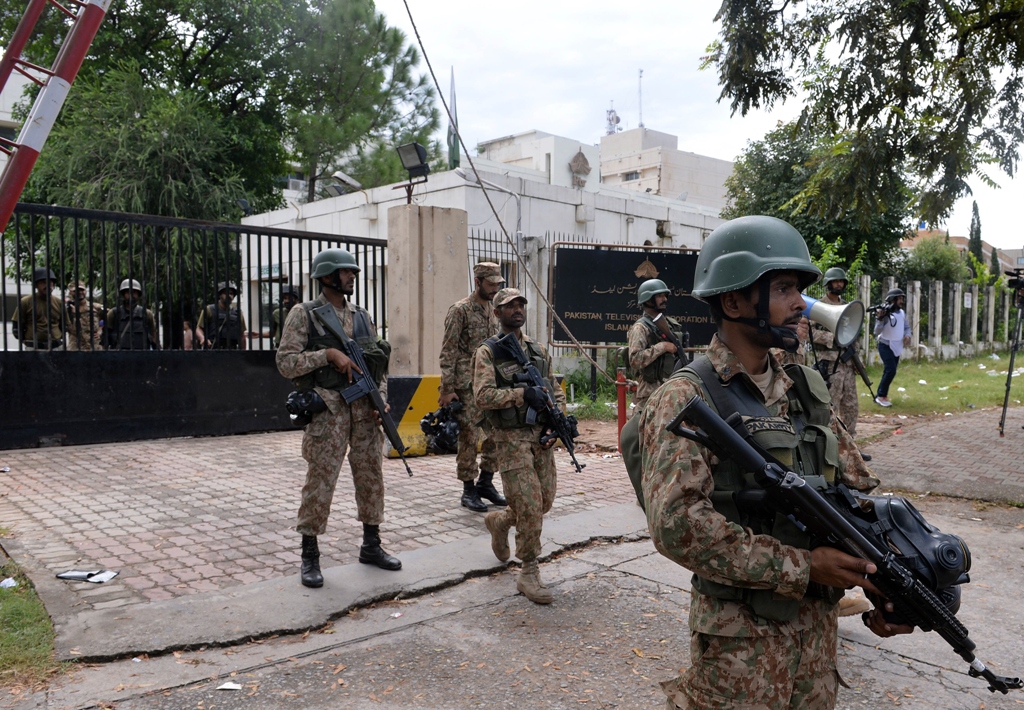 ---
ISLAMABAD: Hundreds of PTI and PAT protesters briefly seized the state broadcaster Pakistan Television Corporation's (PTV) headquarters on Monday, intensifying the political crisis gripping the country. 

Just before mid-day today, hundreds of Pakistan Tehreek-e-Insaf and Pakistan Awami Tehreek supporters managed to storm their way through the main gate of the PTV headquarters.

Transmissions of PTV were cut after protesters armed with clubs stormed the building in Islamabad's high-security "red zone", before being removed by security forces after around half an hour.

All entrances to PTV headquarters were occupied by supporters as they began to damage the property, working their way through the first, second and third floors. Wires were cut as protesters entered the panel room, which led to a temporary breakdown of all PTV transmission.

"They have stormed the PTV office," a news anchor said just before the screen went blank. "PTV staff performing their journalistic duties are being beaten up."

A PTV source told Reuters the protesters had occupied the main control room and smashed some equipment. Later, television pictures showed uniformed members of a paramilitary force and soldiers walking calmly into the building. A Reuters witness said the soldiers escorted protesters out and placed the building under their protection.

There were no signs of violence and the protesters were seen leaving the building peacefully. The station later came back on the air.

PTV managing director Mohammed Malick told AFP the protesters had "ransacked" the building.

"They destroyed equipment and stole equipment. No one seriously injured but we're pretty shaken up," he said.

As security forces took their position inside the building, they attempted to speak to the protesters and tried to get PTV employees out of the building. The army gave protesters ten minutes to vacate the building and said that failure to do so would result in strict action against them.

Meanwhile outside the headquarters, demonstrators had written the name of Qadri and slogans such as "Inqilab" across the walls and on all cars in the vicinity. All pictures other than those of Qaid-e-Azam inside the building have also reportedly been destroyed and displaced.

Both Imran Khan and Tahir ul Qadri have denied instructing any of their protesters to storm PTV. They urged their supporters to maintain peace and not enter the PM house or any other building.