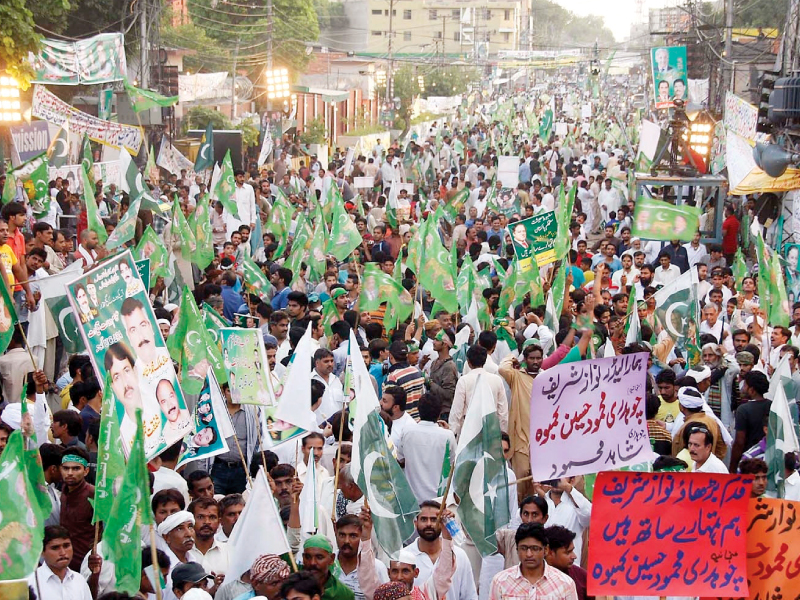 ---
LAHORE:



Imran Khan should abandon his recalcitrance and talk to the government using the parliament as his platform, Pakistan Muslim League Nawaz (PML-N)'s central leader Hamza Shahbaz Sharif said during the party's Istehkam-e-Pakistan rally on Monday at Lahore's Charing Cross. "The people have decided that no one can get Sharif's resignation using force or at gunpoint," he said.




The PML-N leader said during his speech that Pakistan Tehreek-e-Insaf leader Imran Khan said that the prime minister would resign, but it has been 12 days since the sit-in began and there has been no progress. "The nation has rejected Imran Khan's illegal demands," he said.

Thousands of PML-N supporters turned up at the rally, which proceeded from Qartaba Chowk to Charing Cross. Rallies were also held in Sialkot and the party plans gatherings today (Tuesday) in Sahiwal, Sargodha and Gujranwala. On Wednesday, rallies will be held in Rawalpindi and Multan.

Hamza said that the PML-N would give a fitting reply to the PTI's demands with the inauguration of the Lahore-Karachi motorway and through establishing coal projects in Sahiwal and Gadani, as well as solar energy projects in Bahawalpur. "Imran Khan's sit-in has flopped and he is repeatedly calling musicians to join him at this musical concert," Hamza said. "Khan's Naya Pakistan gets women to dance at musical concerts."

After the PM's formation of a judicial commission to investigate alleged rigging in the elections, there is no need for a long march on the issue, Hamza said. "Imran wants the prime minister's position via a short cut and is acting like a stubborn child." He remarked that the National Assembly has passed a resolution showing support to the PM and urged Imran Khan to 'wait for four more years' before vying for the top slot.

"The PML-N took out a long march for the restoration of the judiciary and once it was restored, the sit-in ended," Hamza said. "We did not call for the PPP government at the time to be removed," he claimed. He said Imran Khan's demands – civil disobedience, the promotion of the use of hundi systems, withdrawal of cash from bank accounts – actually showed his enmity towards the state, not the government.

Hamza claimed that businessmen, lawyers and society have rejected PTI's demands and 12 PTI MNAs complained that they were not consulted before the call for resignations was made, thus forming a forward bloc of the party. "Imran must wing up this drama in order to save face," Hamza said. He said the PM would fulfill all promises made to the people and according to the mandate given by the masses. "The nation will get real freedom and self-reliance when there are enough resources, and not through a musical show," he said, claiming that the sit-in had resulted in a loss of Rs700 billion to the economy.

Hamza claimed that Imran Khan broke a commitment not to enter the Red Zone. "If Imran Khan is sincere, he should let the commission do its work for electoral reforms," he said. Referring to recent fatalities in Peshawar due to rainfall, he remarked, "Chief Minister Shahbaz Sharif would immediately reach areas affected by floods or earthquakes in Punjab, but K-P's CM has been dancing at sit-ins instead of helping his people."

He advised Imran Khan to let the nation continue its journey towards development, or 'the nation will throw him out of the country'. If Imran Khan refuses to leave his container until Nawaz Sharif's resignation, then he should make arrangements to live there for the next four years, he said. 

Published in The Express Tribune, August 26th, 2014.