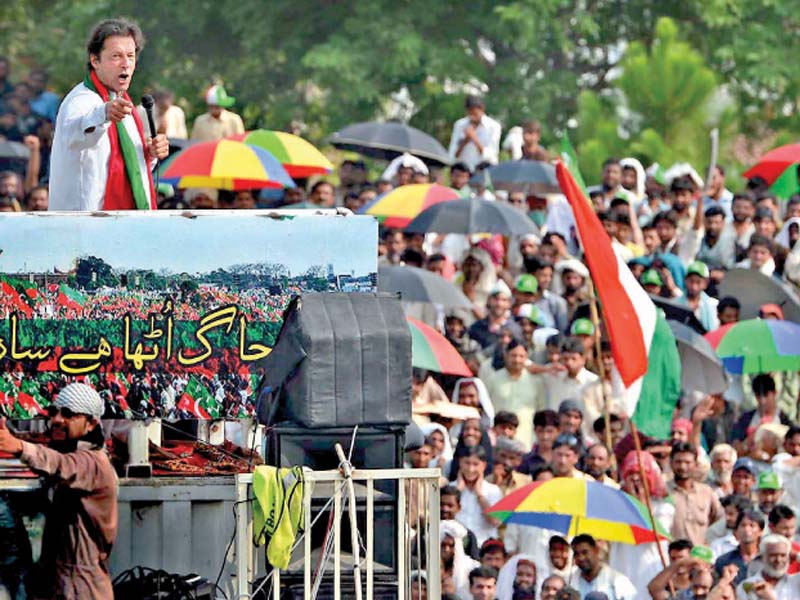 ---
ISLAMABAD:



Hours after the US Embassy issued a statement over the ongoing political stalemate in the country, Pakistan Tehreek-e-Insaf (PTI) chief Imran Khan said it was unacceptable, terming it an intrusion into the country's internal political matters.




"Convey my message to the US State Department that they have no right to interfere in the politics of Pakistan," he said, while addressing the Ambassador to Pakistan Richard Olson.

In his speech to protesters in front of Parliament House on Thursday, Imran expressed disappointment and surprise at the US statement and said, "Are we Pakistanis children of a lesser God that we need your No-Objection Certificate?"

He asked the US ambassador whether the American people would accept an election where 60,000 to 70,000 votes were unverifiable because ballot papers were deliberately printed against the rules at the last minute.

The second message Khan gave Olson to convey was: "Please do not take sides. If you want Pakistan as a friend, we are willing, but you must remember that Prime Minister Imran Khan cannot become a stooge like Nawaz Sharif."

After delivering a message to the US, the PTI chief once again hit hard at the government.

"On one hand, PML-N had offered to engage in talks but on the other, they blocked all the roads … The meeting [of negotiation committees] could not take place not because we don't want to engage in talks, but because of these blocked roads," he said.

Although Imran did not withdraw his demand for the resignation of the prime minister, he said something big was going to happen in the next two days.

"I will not leave [this place] all my life if Nawaz Sharif does not resign. I will stay here for a year if needed," he added.

The PTI chief asked party workers from Karachi, Quetta, Lahore in particular and others to hold rallies and celebrate by installing big screens for the live telecast of the Azadi march.

Talking about the government's talks committee, he rejected the inclusion of Leader of the Opposition Khursheed Shah of the Pakistan Peoples Party (PPP). "We can accept Qamar Zaman Karia as a member of the committee from the PPP," he added.

Imran alleged that Shah had cases against him in the National Accountability Bureau (NAB), therefore, he was siding with the Prime Minister. "You [Shah] should become Nawaz Sharif's personal secretary!"

He did not spare members of the National Assembly, including Mahmood Khan Achakzai and Maulana Fazlur Rehman as "they have all sold their conscience to Nawaz Sharif."


Published in The Express Tribune, August 22nd, 2014.