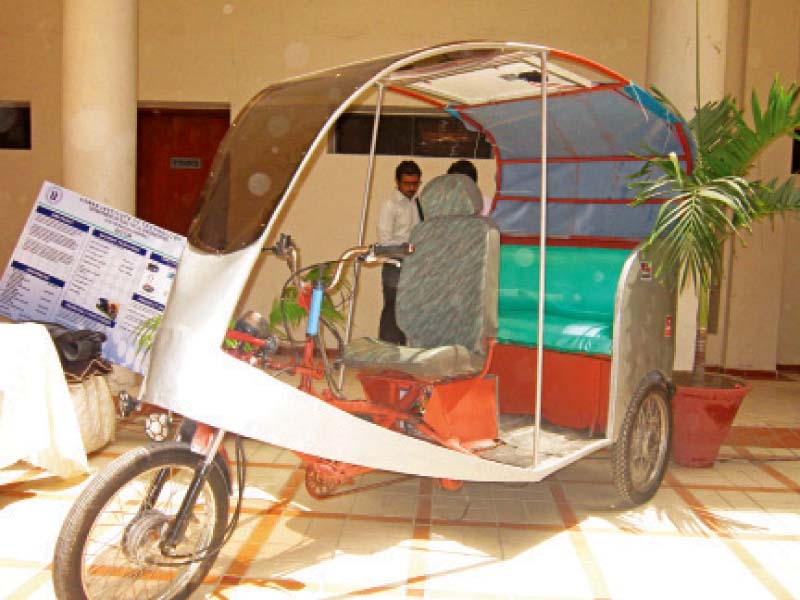 ---
KARACHI:



This new invention by the students of Usman Institute of Technology (UIT) may put to rest all those who are upset with the rigging that takes place during elections.




A group of final-year students at the technical institute have developed an online voting system that uses iris recognition. "The current voting system in Pakistan is not secure and effective," said Aleena Baber, exhibiting their one year of hard work at the final-year project exhibition and job fair 2014 on Thursday. "Pakistan's voting system has several issues and problems that make it distrustful for the people, which is why people don't vote," she added. Baber has two other girls, Mahira Shafique and Ramla Rizwan, on her team.

With their iris-recognition project, Baber said they are hoping to resolve issues such as duplicate votes, unauthorised votes, invalid voters, mismanaged data and the security of data.

"The problems in Pakistan's voting system can be resolved more or less if the manual system is replaced by the computerised system," pointed out Rizwan, another group member. She claimed proudly that their project is the first of its kind that uses Biometric Technology Iris Recognition for voting in Pakistan.

How it works

If the election commission ends up adapting this technology during future elections, it will install the iris-recognition voting system in individual booths that voters can access. The person will have to enter their name and computerised national identity card number into the software.

Once it has been verified that he/she is a Pakistani citizen, the system will capture the iris pattern of the voter through a camera and match it with the pattern saved with the National Database and Registration Authority. A new window will appear on the screen once the verification process is completed, after which the person will be allowed to cast his vote for the national and provincial seats, respectively.

The system will register you as a 'voted' citizen and will not allow you to vote again from any other city or constituency, which will end the menace of duplicate votes, the project members explained. The calculation of votes is also done through the software, which saves time and gives instant results.

Shafique hopes the government can provide an effective and reliable solution by using this e-voting system. "The process of identifying people who are voting will be more authenticated by this approach," she said, adding that this will eventually make elections in Pakistan a more credible process.

Eco Cab

Another project on display at the UIT campus on University Road was 'Eco Cab', which managed to grab the attention of most visitors. The project, which cost around Rs108,000, was the hard work of five students from the electronic engineering department.

Eco Cab looks like a normal CNG rickshaw but it is a cab that can be charged in three ways: solar panels, pedal system connected with a magneto and electricity, explained Neel Kumar Maheshwari, the group leader. The cab consumes anywhere between 15amp and 20amp and takes two hours to become fully charged, he said, adding that it can be driven up to seven kilometres on full battery.

"The eco cab is a chargeable cab that can bear around 500kgs of weight," said Maheshwari. "Our group wanted to work for cars that cause less pollution and our motto was 'small change, big gain'.

Opportunity fair

Apart from the projects, the institute had also organised a career fair with more than a dozen prospective employers and training opportunities for the fresh graduates. A total of 15 private companies had registered themselves at the UIT job fair 2014.

"We are organising our final-year project exhibitions and job fair for our students since 2010," said Industrial Liaison Officer Imaduddin. "More than a dozen students get jobs and make their work recognised through this exhibition," he told The Express Tribune.

Published in The Express Tribune, August 22nd, 2014.