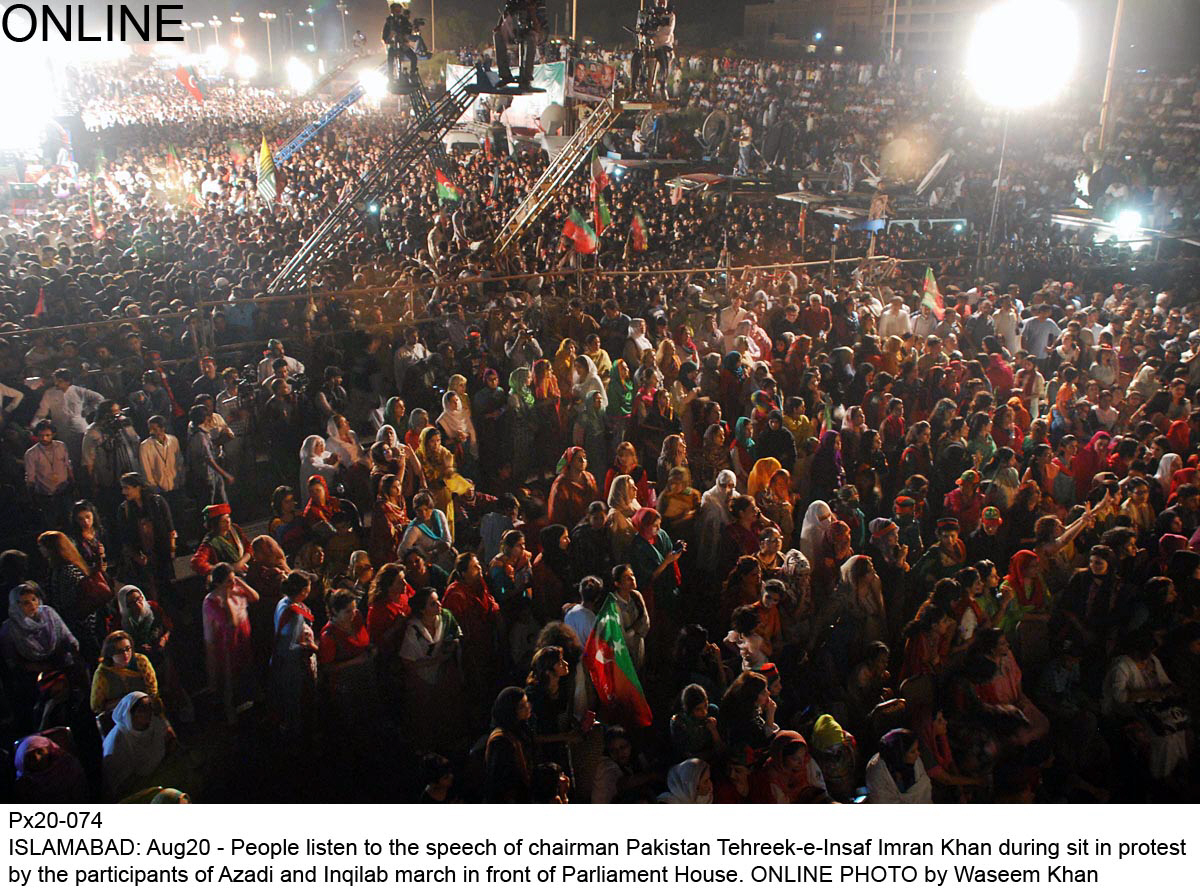 ---
ISLAMABAD: The attitude of Pakistan Tehreek-e-Insaf (PTI) leadership and its chairperson's speeches have disappointed party workers belonging to the Sikh community.

A large number of Sikh workers participating in the sit-in hailing from Swat and Buner districts of Khyber-Pakhtunkhwa (K-P) province have expressed disappointment over the leadership's "apathy" and have left the venue.

Talking to The Express Tribune, Dilbeer Singh, a resident of Buner District's Dagai village, said that their march was not about religion or sects rather it was a struggle against the corrupt and unjust system.

He said minorities had not been treated as equal citizens in the country. "People keep staring at us as if we are aliens", Dilbeer said. He termed Imran Khan's speech made on Sunday "unsatisfactory".

"I was expecting that he would give a clear course of action as how will he reform the system, when he announced delivering an important speech of
his life," said Dilbeer, who spent night at a guest house in G-9 Sector. Khan never discussed the issue of minority rights.

"Several Sikhs were shot dead in target killing in K-P, but the culprits are still at large," said Suraj Singh, a resident of Buner's Pir Baba area. He said that the Sunday's speech had utterly disappointed all the Sikh workers.

"He [Khan] should have given a complete programme as to how he will bring reforms in every sector after overthrowing the current government," he said.

Comparing Imran Khan with Dr Tahirul Qadri, Suraj said Qadri was far better and clear regarding his programme, adding that he demands equal status for every citizen, whether he is Muslim, Christian, Sikh or Hindu.

"If the workers could spend night on roads, why can't the leadership," he asked.

"As a Pakistani, we also demand equal rights, rights to education, right to exercise religious practices and protection of life and property," he said. Suraj, who is a cloth merchant, said that they had not been compensated for the losses they continue to suffer due to militancy.

Giyan Singh, another activist, said that Sikh internally-displaced persons (IDPs) belonging to K-P and tribal areas were yet to be compensated for their losses.

"We have joined PTI camp to see a 'Naya Pakistan'," he said.

He said that the provincial government had never taken care of minority rights nor it protected us.

He said the in the country's constitution minorities have been allowed to teach and learn their respective religious books. "But we are just confined to learn ethics in schools," he commented.

Published in The Express Tribune, August 22nd, 2014.
COMMENTS (6)
Comments are moderated and generally will be posted if they are on-topic and not abusive.
For more information, please see our Comments FAQ