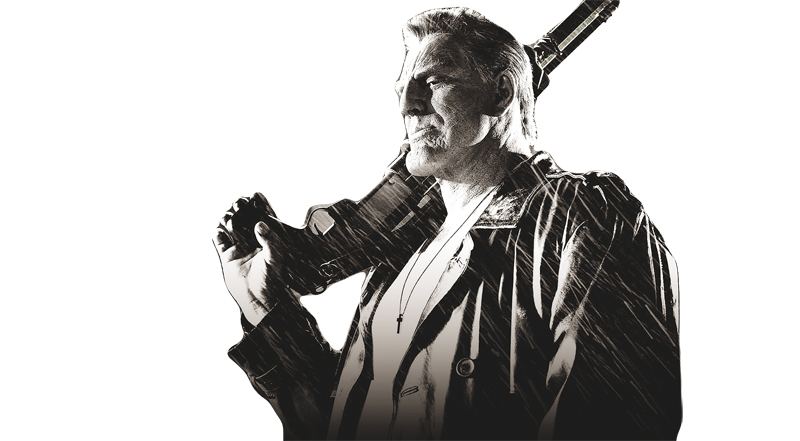 ---
LOS ANGELES: Neo-noir action thriller Sin City (2005) has come to the fore of a new wave of comic book adaptations on the big screen, with DC and Marvel's X-Men, Spider-Man, and Batman reboots dominating the box office in recent years. The film by Robert Rodriguez was based on Frank Miller's eponymously titled graphic novel and set new standards in visual storytelling and colour processing on the big screen.

Almost 10 years down the lane, the Rodriguez-Miller duo is back with Sin City: A Dame To Kill For, which is considered as both a prequel and sequel to the original film. Femmes fatales and brutish men form a complex web in their latest offering as old and new faces from Miller's noir graphic novels are brought to life in film.

Distributed by Weinstein Co, the film sees the return of characters such as the warrior Marv (Mickey Rourke), private investigator Dwight McCarthy (Josh Brolin) and exotic dancer Nancy Callahan (Jessica Alba), as they battle both their mental and physical demons in the corrupt, hedonistic Sin City.

Brolin plays a prequel version Dwight before the character undergoes major facial reconstruction, as seen in Clive Owen's portrayal in the first film. "I like that (Dwight) is so multi-faceted," Brolin said. "The minute you make the decision that he is brutish, hyper-cool and exaggerated like a simian man, you suddenly see all the cracks and the weaknesses."

Dwight's weakness comes in the form of the seductive Ava Lord, played by Eva Green, who embodies all the characteristics of Miller's ultimate femme fatale — a green-eyed ruthless manipulator who uses her sexuality to get what she wants.

"We've all dreamt of being Ava Lord at some point; to have so much power and to just let it all out and use men and be nasty," said Green. "She's a fantasy."

Miller also wrote two new stories specifically for the film including The Long, Bad Night, starring Joseph Gordon-Levitt as a young poker player trying his luck in Sin City, and Nancy's Last Dance, to give fans of his books something new.

Alba reprised the role of Nancy, who is paralysed by grief and succumbs to alcohol after losing the love of her life, John Hartigan (Bruce Willis), in the first film. "She was broken and sad and tormented and she comes out in the end as this pretty badass warrior," Alba said.

Miller criticised recent superhero films for straying from original source material, pointing to Iron Man, Captain America and Avengers, based on Jack Kirby's 1960s comics. "There's a big difference between going from a singular vision and taking the title of something into a boardroom full of people and ripping it to pieces," he said. REUTERS




Accolades won by Sin City (2005)




• Mickey Rourke won the Chicago Film Critics Association Award, Online Film Critics Society Award, Saturn Award and an Irish Film & Television Award for his performance

• The film was nominated for a Palme d'Or at the 2005 Cannes Film Festival and Rodriguez won the Technical Grand Prize for the film's visual shaping

• The film was nominated at the 2006 MTV Movie Awards for Best Movie, Best Kiss for Clive Owen and Rosario Dawson and Sexiest Peformance for Jessica Alba

•              Graeme Revell's work in the film was honoured with a Best Film Music Award at the BMI Film & TV Awards

Published in The Express Tribune, August 22nd, 2014.

Like Life & Style on Facebook, follow @ETLifeandStyle on Twitter for the latest in fashion, gossip and entertainment.