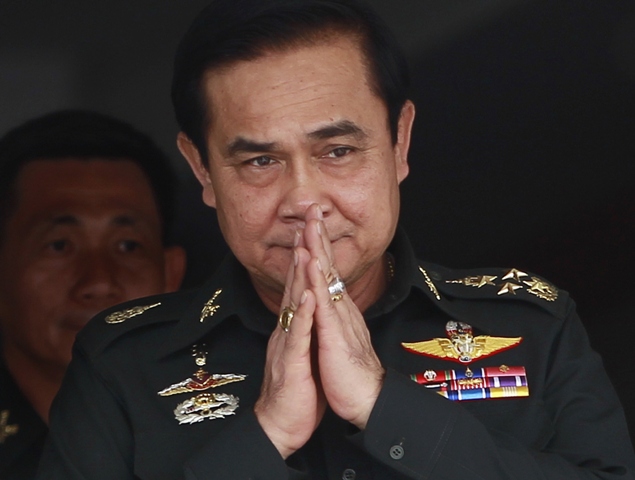 ---
BANGKOK: Thailand's junta-picked National Assembly on Thursday chose coup leader General Prayut Chan-ocha as Prime Minister in a one-horse race that entrenched the military's hold on power.

Nobody in the rubber-stamp legislature opposed the selection of the 60-year-old army chief, who ousted an elected government in a bloodless takeover on May 22.

The move by the top general to shed his uniform and take the premiership is seen as cementing the military's control of the politically turbulent nation.

The junta, formally known as the National Council for Peace and Order (NCPO), has ruled out holding new elections before around October 2015, despite international appeals for a return to democracy.

"The generals clearly do not plan to restore democracy," said Sunai Phasuk, senior researcher at New York-based Human Rights Watch.

"Instead of paving the way for a return to democratic civilian rule, the NCPO has granted itself unchecked authority to do almost anything it wants, including committing rights abuses with impunity."

Prayut, who is due to retire as army chief in September, is seen as a staunch opponent of fugitive former premier Thaksin Shinawatra, whose overthrow in an earlier coup in 2006 triggered Thailand's long-running political crisis.

Thaksin - whose sister Yingluck was dismissed as premier in a controversial court ruling just before this year's coup - fled Thailand in 2008 to avoid prison for a corruption conviction.

Following the 2006 putsch - now widely seen as a failure in light of the subsequent political turmoil- the junta handed the reins to an army-backed premier who oversaw a series of policy blunders that damaged the economy. Observers say Prayut was anxious not to allow history to repeat itself.

The army rulers say they want to reform Thailand to end years of political turbulence and street violence, but critics see the takeover as an attempt to wipe out Thaksin's influence.

The junta has vowed to remain in place in parallel to the future government, which will be nominated by Prayut as prime minister. He was backed by 191 members of the 197-strong assembly, with three abstentions and three voters absent. No other candidate stood against him.

"We need a leader who can help the country through the crisis," said assembly member Tuang Untachai, who proposed Prayut as premier.

"We have to set aside all conflicts and move the country forward."

Prayut's appointment must be approved by King Bhumibol Adulyadej although royal endorsement is seen as a formality.

The army chief, who is seen as a fervent royalist, was not present for the vote because he was attending a military ceremony outside Bangkok.

Prayut is often described as the architect of an army crackdown on a pro-Thaksin "Red Shirt" rally in Bangkok in 2010 that left dozens dead.

Before seizing power, the golf lover and father of twin daughters had said he would not allow Thailand to become another "Ukraine or Egypt".

Thaksin, who is reviled by much of Thailand's Bangkok-based royalist elite, lives in Dubai but he or his parties have won every election since 2001.

Since seizing power the junta has abrogated the constitution, curtailed civil liberties under martial law and summoned hundreds of opponents, activists and academics for questioning.

"This is not a climate for an election to be held freely and fairly," said Sunai at Human Rights Watch.

"Even after the next election, scheduled for the end of 2015, the NCPO will stay on with overarching power. This is a military rule that gives no hope for democracy to be restored in Thailand."

The United Nations' human rights office on Wednesday warned of "chilling effects" on freedom of expression under the junta, following recent arrests and jail sentences for insulting the monarchy.

Critics say the royal slur legislation has been politicised, noting that many of those charged in recent years were linked to the "Red Shirts", who are broadly supportive of Thaksin.

 
COMMENTS
Comments are moderated and generally will be posted if they are on-topic and not abusive.
For more information, please see our Comments FAQ