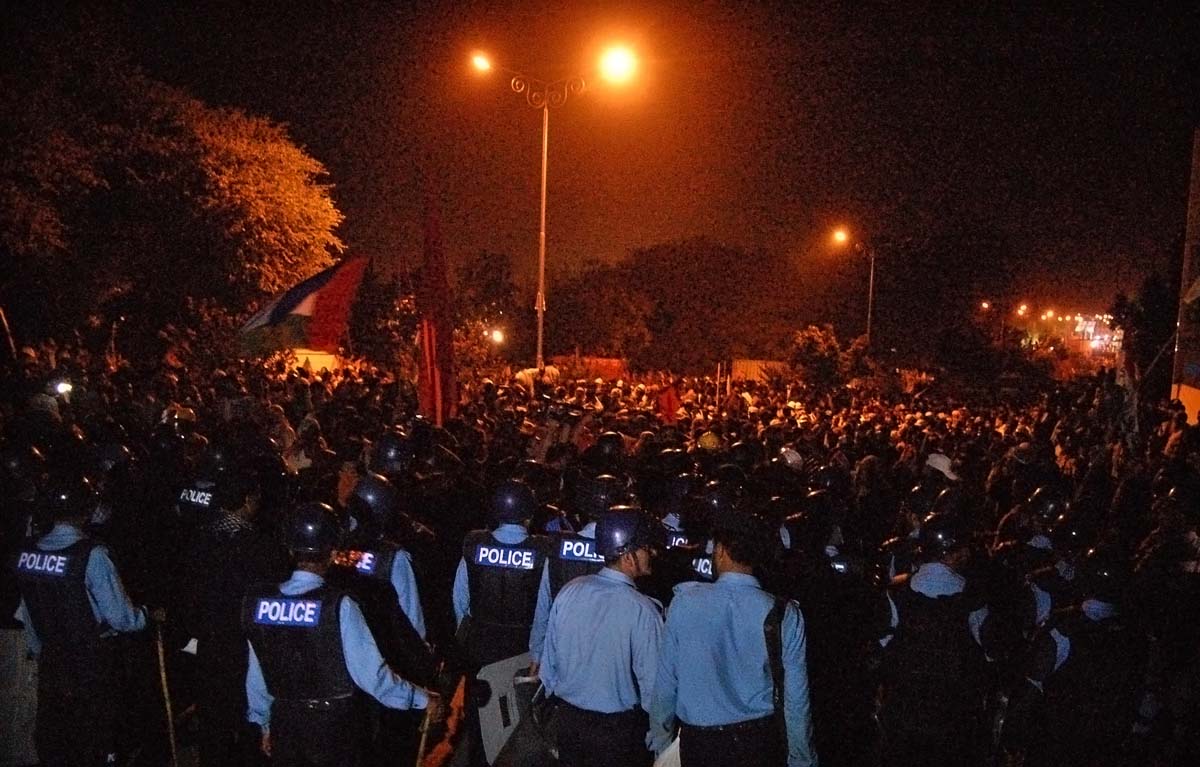 ---
ISLAMABAD: The interior ministry allegedly removed on Thursday Islamabad Inspector General (IG) Aftab Cheema from his post over his failure to use force against PTI, PAT supporters, who are currently staging a sit-in in Islamabad. 

In a mysterious turn of events, DIG Headquarters Khalid Khattak was appointed as acting IG Islamabad after Cheema's application for 'leave' was accepted by the interior ministry.

According to sources, the relationship between Interior Minister Chaudhry Nisar and Cheema had been strained for a while, specifically after the Islamabad police chief 'failed' to control Sikhs, who had stormed through the gates of Parliament House in May this year to protest the alleged desecration of their holy books in Sindh.

However, the major sticking point between the interior minister and Cheema was allegedly over the latter's refusal to use force against the protesters unless the government provided a written request to him to do so.

Further, Cheema, it seems, had a tendency to apply for leave whenever the PTI held a rally in Islamabad, according to sources. The former IG Islamabad sought leave when the PTI staged a protest on Jinnah Avenue in May this year and then also applied for leave when the party announced its long march in June this year. However, the interior ministry refused to accept his leave application.

According to sources in Islamabad police, the interior minister was displeased with Cheema's reaction when Qadri ordered his supporters to surround Parliament. The police inaction is said to have infuriated the interior minister.

The source added that the interior minister reportedly also exchanged harsh words with Cheema on Wednesday after police personnel complained that they had been putting in long shifts, sometimes punching in 18 hours due to the protests. The minister ordered Cheema to divide their duties in three eight-hour shifts.

Meanwhile, PTI's leadership also claimed that Cheema was dismissed because of his refusal to baton-charge PTI protesters, who are currently staging a sit-in outside Parliament House in Islamabad. PTI leader Shah Mehmood Qureshi told Express News that Cheema was 'told to crackdown on PTI workers' and that he refused.

PTI chairman Imran Khan made similar claims in a speech a few hours later. He also issued a stern warning towards the new, incoming IG, warning him against using violence. "If you use violence against a single one of my workers, I will hunt you down and find you," he said.

Meanwhile, the interior ministry has dismissed these claims. A spokesperson said that Cheema is merely on leave, and that his dismissal has nothing to do with the ongoing protests.

Addressing his supporters, Pakistan Awami Tehreek chief Tahirul Qadri also alleged earlier on Thursday that Cheema was dismissed for refusing to fire upon Qadri's workers.

The government maintains that all law enforcement officials are under strict orders not to use violence against the protesters.