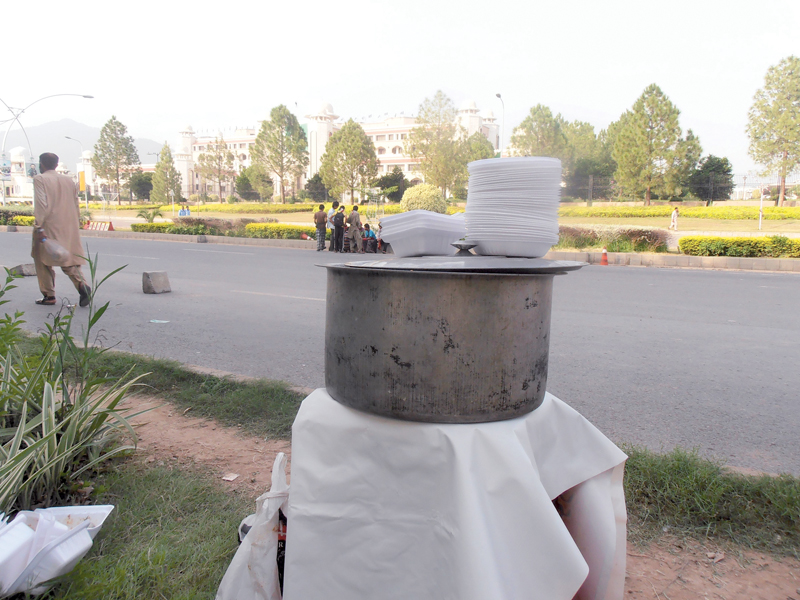 ---
ISLAMABAD: Tahir Mehmood had never imagined he would be selling chana chaat in front of the Prime Minister's Secretariat smack in the centre of Red Zone.

On Wednesday, however, he placed his pot across the premier's office and sold his chaats like hot cake.

"I know the PM would never come to taste this dish that is why I have come to him," said Mehmood smilingly. "My dish is worthy enough to be tasted by Nawaz Sharif himself."




Mehmood's emotions ran high as he stood there. "I wonder if he (PM) lives alone in this mansion," he asked, adding that he would be frightened to sleep alone in such a "huge building".

For the first time in recent years, street vendors along with workers and supporters of political parties have entered into the Red Zone after the Azadi and Inqilab rallies marched into the area following a political gridlock.

Mehmood said he does not have big wishes but if he, along with others, were given health, education, home and a peaceful life, that would be more than enough for many.

A man selling patties, Bashir Ahmed, stood beside his steel tray with the support of crutches, unaware of the fact that the PM was housed close by. "I believe we are all made of flesh and bones but power brings a lot of difference among us," he said, adding that "no one cares about the poor people like us."

He was of the view that no one, including the rulers and those who wish to rule, would help the poor as they all made promises to come into power.

A 12-year-old rag picker, Wasayullah, had a very profitable day. Carrying a sack over his shoulder which could bear around four to five kilogrammes of weight, he said all he cared about was the number of bottles he could collect while the rallies stayed in the capital. "A sack full of empty bottles renders Rs150 and there is no dearth of them these days," he said.

He revealed that bottles were being sold for Rs30 per kilo, adding that he was easily earning the daily share due on him by his family members. He was least bothered about the PM House, Supreme Court, Parliament and other important buildings where a high number of people were busy taking selfies or posing with friends and family members.

Published in The Express Tribune, August 21st, 2014.
COMMENTS (1)
Comments are moderated and generally will be posted if they are on-topic and not abusive.
For more information, please see our Comments FAQ