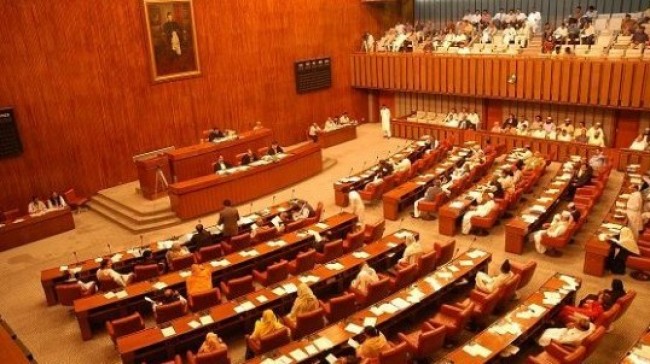 ---
GILGIT:



The resolution adopted by the senate on Tuesday to amend Gilgit-Baltistan's (G-B) self-governance order to empower the de facto province has given hope to the region's lawmakers and politicians. 




To shift powers from the G-B Council to its legislative assembly has been a longstanding demand of politicians here. The G-B Council is a 12-member body headed by the prime minister. It is equally represented by the G-B and federal governments, unlike the assembly which is populated by elected representatives.

The senate unanimously adopted a resolution on Tuesday, moved by Pakistan Peoples Party's (PPP) Farhatullah Babar. It called upon the government to amend the G-B (Empowerment and Self-governance) Order 2009.

Babar had said the people of G-B had voluntarily joined Pakistan and benefited it as the area has critical geo-strategic importance for Pakistan's security, foreign policy and economy.

The resolution called to revisit the self-governance order with a view to grant more autonomy and to protect the fundamental rights of the people, said Babar.

It is wrong to say that until a permanent settlement on the status of G-B is arrived upon with respect to the Kashmir issue, we cannot do anything for G-B, he added. "This is a ploy of the bureaucracy in Islamabad."

Giving hope

"If this resolution is acted upon, the G-B assembly could have powers to legislate on issues like minerals, power and forests," Amjad Hussain, a member of the G-B Council, told The Express Tribune on Wednesday.

"This is a historic moment for us. We salute Farhatullah Babar, Raza Rabbani and other senators who took pains to do what others failed to do over the past 67 years," said Hussain.

In another first, Hussain said, "The resolution proposed a financial mechanism for the self-governance order of 2009, which it lacked."

Babar was also part of a nine-member committee which visited Gilgit in April to probe human rights issues in G-B. The recommendations of the committee have not yet been finalised though work on it is reportedly in its final stages. Once done, the report on the status of human rights in G-B will be presented at the senate.

The G-B (Empowerment and Self-governance) Order 2009 was introduced by the PPP government in 2009, before the 18th Amendment. After power was devolved to the provinces, each federating unit gained greater autonomy. However, G-B which remains a de facto province did not, adding to the peoples' sense of deprivation.

"This was the demand of G-B, that the region must benefit from the 18th Amendment and now we are hopeful that we will," said Hussain.

Published in The Express Tribune, August 21st, 2014.