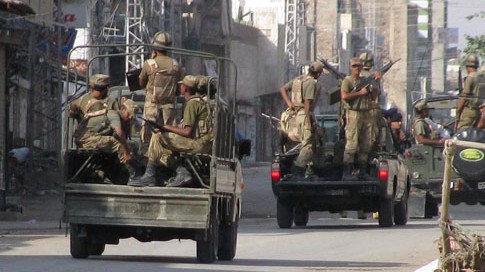 ---
PESHAWAR:



Sheikhan village remained under strict curfew for the second consecutive day as a result of an ongoing military operation in Bara. Sheikhan lies within the jurisdiction of Badhaber police station which borders Akka Khel, Khyber Agency.




Local elders told The Express Tribune an unannounced curfew was imposed in the village on Tuesday after troops were deployed along the border of Khyber Agency to seal it completely. People have been asked to stay indoors, otherwise violators will be shot at first sight.

"We are prisoners inside our own houses since the past two days as no one is allowed to come out of his house by security forces," said a local elder. Since the curfew was unannounced, they were unable to stock up on food or even drinking water.

"There is a complete power outage in the area; people have to fetch water from mosques and when you can't come out of your house, it means you are left without potable water and food," he said.

Some people in Sheikhan, however, were happy with the deployment of security forces in the area. They said it had put a stop to militants infiltrating the village. Militants have been responsible for kidnapping residents in the broad day light and for robbing dozens of their cash and mobile phones.

"Yes, we are without food but our lives are not at stake at least," said another resident. The police had failed to check the movement of the militants in the area which was virtually in the control of militants, he added. "The government and police have no writ."

Published in The Express Tribune, August 21st, 2014.
COMMENTS
Comments are moderated and generally will be posted if they are on-topic and not abusive.
For more information, please see our Comments FAQ