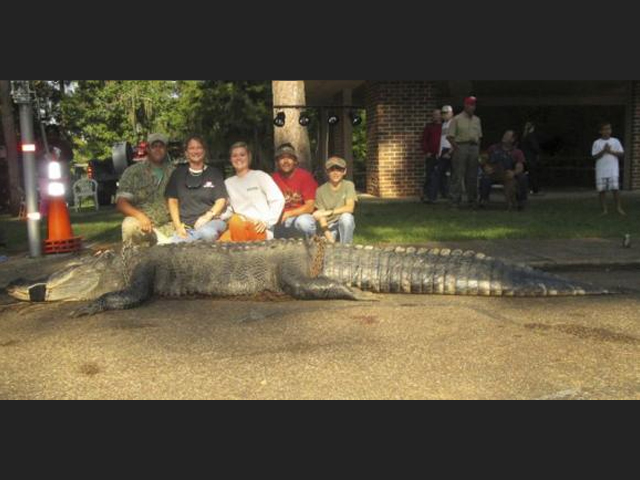 ---
Hunters in Alabama snared an alligator weighing more than 1,000 pounds, the largest ever caught in a legal hunt in the state, conservation officials said on Monday.

The alligator, caught with a snare hook in a southern Alabama state park early Saturday, was so heavy it required a backhoe to hoist it onto a scale, said Mike Sievering, a state wildlife biologist who supervised the hunt.

"He was an eyeful, I'll say that," Sievering said.

The alligator, which weighed 1,011.5 pounds and measured 15 feet long, was more than 100 pounds heavier than the previous state record holder, he said.

Alabama began allowing alligator hunts in 2011, responding in part to the reptiles showing up unbidden in fish farm ponds, Sievering said.

In Sievering's three-county area, up to 50 alligators are legally hunted over two weekends each summer by hook and line and underwater bow and arrow.

The American alligator was listed as endangered by the United States in 1967 after its ranks were diminished by habitat loss and excessive hunting.

But the species was removed from the list 20 years later and now numbers more than a million in the southeastern United States, according to the National Parks Conservation Association.