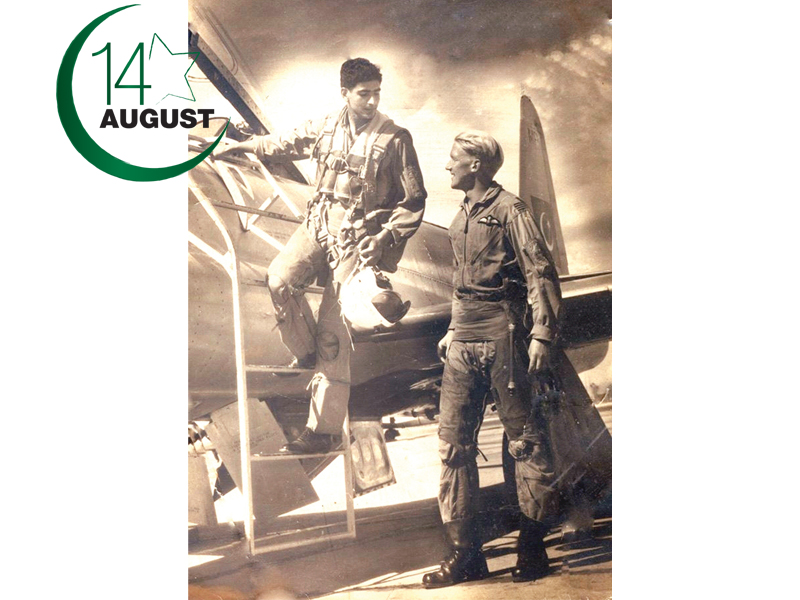 ---
This is a photograph from when I was 19 years old, in 1963. The gentleman in the image is my instructor, Flt Lt Chris Salwey, of the Royal Air Force. He was on an exchange posting with the Pakistan Air Force (PAF) and at the time, I had to undergo fighter conversion and operational training on the F-86 Sabre.

In those days, basic flying training at PAF Academy, Risalpur used to be on a piston engine-driven propeller airplane called the T-6G. After graduation we had to undergo conversion training on jet engined aircraft on the T-33. I went on to have a forty year-career in the Air Force and I am a veteran of the 1965 war. I served as Defense Attache in the United States of America from 1988-1991 and I retired as an Air Commodore.

PHOTO: AIR COMMODORE NASIR M BUTT

CONCEPT: SANAM MAHER

DESIGN: SAMRA AMIR

This August, The Express Tribune will feature photographs from contributions to an open call for images from the struggle for independence and Pakistan's formative years.

Photo & text: Air Commodore Nasir M Butt 

Concept: Sanam Maher

Published in The Express Tribune, August 20th, 2014.