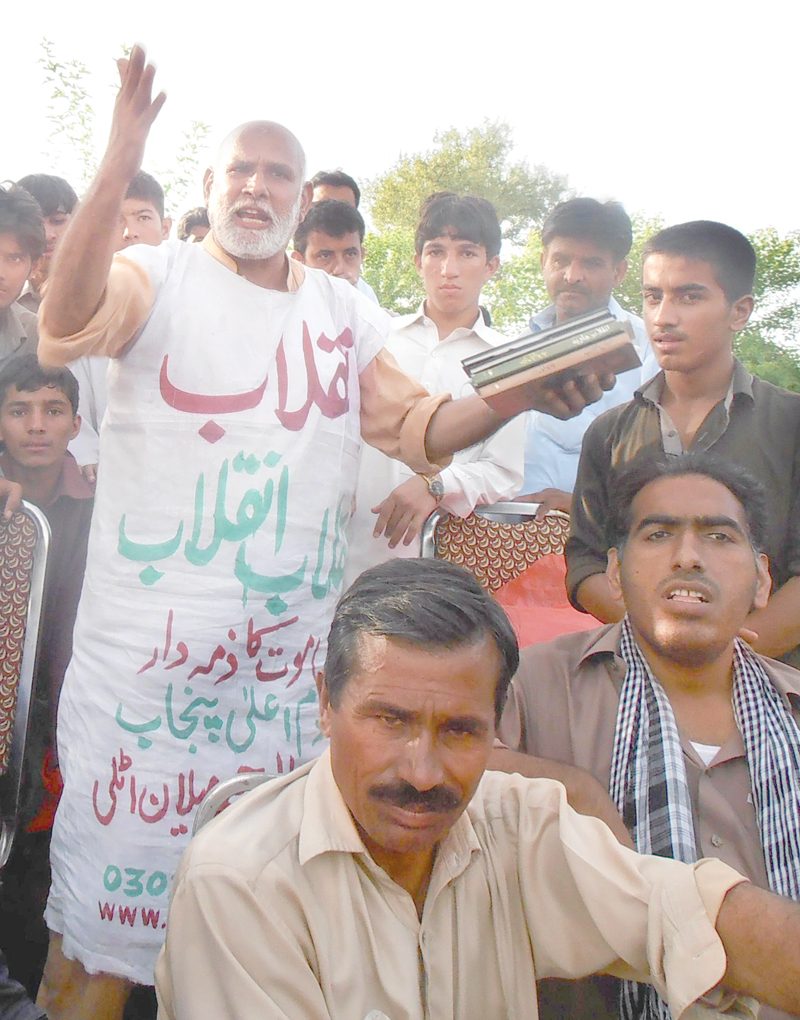 ---
ISLAMABAD:



For 'Chacha Inqilab', any blood spilt for the nation never goes in vain but a revolution which does not change the system is worthless in the end.




A Pakistan Tehreek-e-Insaf (PTI) supporter, Javed Iqbal Cheema, has travelled from Milan, Italy, to join the party's 'Azadi March' as he believes the real revolution can only come by rendering sacrifices.

Cheema, known as Chacha Inqilab by workers and supporters of PTI for his revolutionary poems, tries to keep the youth's spirits high at the PTI camp.

A crowd of young men have become ardent fans and are always gathered around him and applause after every couplet recited by Cheema.

Cheema says the nation has "an honest leader in the shape of Imran Khan and masses should come out to rid the country of the corrupt system."

Eulogising Imran for his achievements, Cheema said he wrote several poems for his 'revolutionary leader.' "I believe that without revolution the system cannot be changed and for running the new system we will need a new government under honest leaders like Imran," he said.

Cheema, who has published 12 poetry books to-date, claimed he has been writing for the last 35 years against corrupt systems as it negates fundamental rights and dispensation of swift justice everywhere in the world.

"My conscious would have haunted me had I not joined Imran's call for revolution. Besides, it would have been a waste of a once-in-a-life-time opportunity," he said.

Cheema's heroes range from Che Guevara and Mahatma Gandhi to Imam Khomeini and Chairman Mao. He believes that all these historic figures gave countless sacrifices to rid their systems of repression.

Like other PTI workers, Cheema also demanded the overthrow of the current government and expressed faith in the PTI leader who, he believes, can reform the system. He, however, warned that he would stop supporting PTI if Imran makes any compromise with the government.

"He will become zero from hero if he makes any mistake while taking a withdrawal decision regarding the protest," said Cheema, before turning to a dozen or so audience members and reciting his favourite revolutionary couplets.

Poetry and politics

Poetry has long been considered an important tool in wars and various protest movements.

Commenting on the role of poetry in revolutions, Harris Khalique, an Islamabad-based poet, said in Pakistan and India poetry runs in people's blood.

"From Faiz Ahmad Faiz to Habib Jalib, there has been a galaxy of poets whose works whipped up people's emotions and positively influenced them to take part in public movements."

Poetry has always inspired the public and accelerated various movements, said writer and poet, Fahmida Riaz. "Revolutionaries never wrote for politicians and capitalists but rather for the poor," she said.

Asghar Nadeem Syed, a playwright and author, commented that everyone was free to use a poet's 'kalaam' as once it was published it becomes public property. Declaring poetry as a tool for winning hearts and minds, he said everyone was free to take out whatever meaning they want.

Khalique said socialists have produced some of the finest resistance poets as well as romantics and ideologues. Interestingly, Islamists and right-wing political parties were also relying on poetry of the leftists, he quipped.

Published in The Express Tribune, August 20th,2014.
COMMENTS (2)
Comments are moderated and generally will be posted if they are on-topic and not abusive.
For more information, please see our Comments FAQ