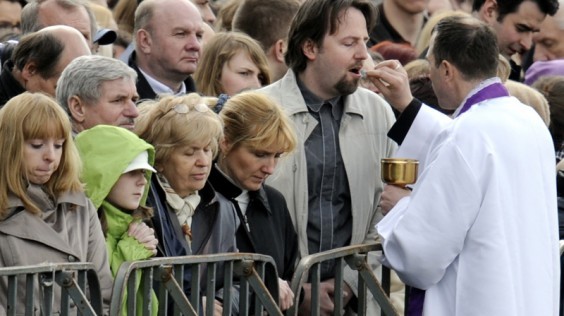 ---
KRAKOW: The bodies of Polish president Lech Kaczynski and his wife made their final journey for burial on Sunday beside the country's past kings, as a cloud of volanic ash kept many world leaders away.

Thousands of mourners filled the historic city as a military aircraft ferried the couple's coffins from Warsaw, flying under the ash plume that has caused global travel chaos and foiled US President Barack Obama from coming.

Russian President Dmitry Medvedev reportedly defied the volcanic debris and left Moscow for Krakow by plane, in a sign of solidarity after the air crash in Russia eight days ago which killed the Kaczynskis and 94 other people.

Grieving Poles applauded, tossed flowers and waved red and white flags as the Kaczynski's cortege weaved through the narrow streets of Krakow to the Gothic Basilica of Our Lady, where there was to be a mass at 2:00 pm (1200 GMT).

Kaczynski, an often divisive nationalist in life, and his spouse will later be laid to rest in the cathedral crypt of Krakow's hilltop Wawel castle, where Poland's monarchs, national heroes, saints and poets already lie.

The burial will be the climax of an outpouring of national grief over the crash. As well as the president scores of senior figures were killed including the country's top military commanders and central bank governor.

"It's an exceptional moment. Poles have to be here," said Maria Kurowska, the mayor of the town of Jaslo, who was among the crowds in Krakow. Her town paid for three coaches to take mourners to the funeral.

Krakow city spokesman Filip Szatanik told AFP it would be "one of the largest, if not the largest single event the city has seen over the last couple hundred years."

The funeral comes a day after more than 100,000 mourners massed in Warsaw's main Pilsudski square for an emotional public memorial service for all the victims of the crash. But the Icelandic volcano eruption that has disrupted European air travel also cast its shadow over on Sunday funeral, with German Chancellor Angela Merkel, French President Nicolas Sarkozy, Britain's Prince Charles and South Korean Prime Minister Chung Un-Chan among dozens of dignitaries who cancelled.

All Russian news agencies quoted Kremlin spokeswoman Natalya Timakova as confirming Medvedev's departure for Krakow but no further details were given and Kremlin officials could not be immediately reached for further comment.

Leaders of countries close to Poland, including the Czech Republic, Estonia, Hungary, Lithuania, Romania, Slovakia and Slovenia, took to the roads and railways to get to Krakow in time.

Obama sent his regrets in a White House statement, adding that "Michelle and I continue to have the Polish people in our thoughts and prayers, and will support them in any way I can as they recover from this terrible tragedy."

After the initial service at the Basilica of Our Lady, the coffins will then be taken on gun carriages to the hilltop Wawel cathedral for a funeral service and a 21 gun artillery salute.

The ceremonies in Krakow will be reserved for family, friends and national and foreign leaders but will be shown on huge screens in the city. They will lowered into a sarcophagus inscribed with their names and a cross.

It will lie next to that of Poland's revered independence leader, Jozef Pilsudski. Elected in 2005, the conservative Kaczynski caused ructions at home and abroad, but the crash has brought unity to Poland's fractious political scene, as well as rapprochement with historic foe Russia.

Kaczynski's Tupolev Tu-154 jet slammed into a forest near Smolensk in western Russia while en route to a ceremony marking the 70th anniversary of the massacre of thousands of Polish officers by Soviet forces.