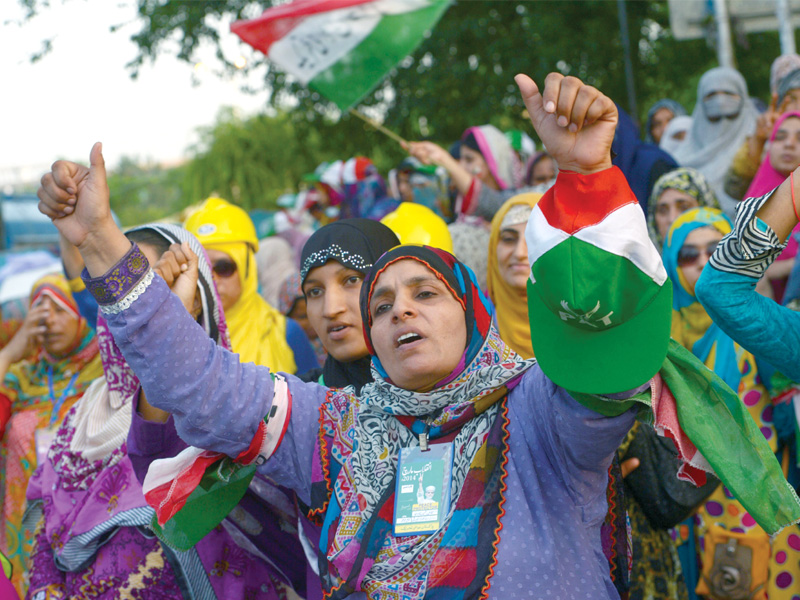 ---
ISLAMABAD:



Pakistan Tehreek-e-Insaf (PTI) chief Imran Khan vowed on Monday that he would himself lead a procession into the federal capital's high security Red Zone today while Pakistan Awami Tehreek (PAT) chief Dr Tahirul Qadri called the nation to a 'people's assembly' to set the path of his revolution on the same day.




On Monday, Imran Khan was the first among the two men to lay down what is probably his last card at the government a few hours after his party announced its decision to resign from the National and three provincial assemblies, excluding the Khyber-Pakhtunkhwa Assembly.

"I am going to enter the Red Zone t

Final showdown likely today

day [Tuesday]," said a visibly confident and determined Imran Khan, as he laid bare his party's future plan in order to force Prime Minister Nawaz Sharif out of office.




The announcement by the PAT chief Dr Tahirul Qadri to hold a 'People's Parliament' came later, in the early hours of Tuesday, after the expiry of his 48-hour deadline.

Addressing himself to the entire nation, he called upon the people – especially the denizens of the surrounding cities – to join forces for the final showdown. "Times is about to come when you would have to play a very important role. This Inqlab cannot be deferred and it will change the life of masses," he said.

Speaking to a charged crowd, the former cricketer said he would lead from the front. "I will lead you [marchers] and would be the first to take a bullet," said Imran after exhorting his supporters to remain peaceful but not let their leader down.

"We will go to the National Assembly – which is fake and PM House – where a fake PM resides," added Imran, as he called on the government to avoid a clash and remove containers blocking the approach roads into the Red Zone.

"I do not want a clash and the police will have to take a decision on whether they will open fire at me; but I know Pakistan's police would never do that," said the PTI chief.

Raising the spectre of violence, the PTI chief warned his supporters that the government may deploy some goons and 'Gullu Butts' to open fire on PTI supporters. "You would not find a place to hide in this entire world," warned Imran, alluding to pro-government supporters who may try to stop his march.

The PTI chief invited people from every province of the country and those who had not participated in the march to make sure that they reach Islamabad and witness the historic making of a "Naya Pakistan."




The call to enter red zone comes at the fourth day of Khan's Azadi March. Before making the announcement of marching onto the Red Zone, Imran is reported to have held extensive meetings with his party's district president to ensure the maximum presence of PTI workers at the rally.

Already, the government has declared the area surrounding the Constitution Avenue as a Red Zone for past few years. Sensitive offices and installations, including the diplomatic enclave, Prime Minister's Secretariat, Foreign Office, Radio Pakistan, headquarters of ECP and FBR, Supreme Court and National Assembly are housed on either side of the Constitution Avenue.

Declared a no-go area by the government, the announcement by Imran is being seen as the most significant challenge to Prime Minister Nawaz Sharif's government since he came to power in May 2013.

Dr Qadri said up till now the decision was in his hands. "But today at 5pm it will be you, the people, who will take the decision. We will implement whatever the Peoples Parliament decides," he added.

He announced sit-ins were started to be staged all across the country and motorways had been blocked on the call of the PAT, Majlis Wahdatul Muslmeen, Sunni Itthad Coucnil and Pakistan Muslim League-Quaid.

He said participants of the Inqlab march had sacrificed and played their role but those who were sitting in their homes should pay attention to what he was saying. "Whosoever wants to see the dawn of Inqlab, should come here," he added.

Qadri said he did not had any personal interest behind this revolution march as he could earn around Rs2 to Rs3 million per month, as royalty from his publications. "But I did not get even a single penny as royalty," he added.

"I am fighting this war for millions of poor people of Pakistan," he added.

Earlier, Dr Tahirul Qadri rebuffed appeals for talks with the government. The government had earlier announced the formation of two separate committees to negotiate with both the PAT and the Pakistan Tehreek-e-Insaf but these have been rejected by Qadri.

These committees were to include representatives of both ruling as well as opposition parties. But on Monday, two parties - Jamaat-e-Islami and the Mutahidda Qaumi Movement, declined to become part of government team and said that they would rather stay neutral.

PTI's resignations

Announcing his party's decision to resign from all assemblies, save the K-P Assembly, Imran justified his decision by highlighting that as a part of a coalition government in the province, his party would need to take other coalition partners into confidence before taking his next step in the province.

Earlier, PTI vice-chairman Shah Mehmood Qureshi held a press conference in Bani Gala to announce his party's decision to resign from assemblies.

"PTI has decided to go with the politics of people and resign from national and provincial assemblies except K-P Assembly," said Qureshi. However, he did not give a timeframe for submitting the resignations and said that his party had not closed the doors on negotiation.

However, party insiders told The Express Tribune that the PTI-led provincial legislature members have refused to tender their resignations. Insiders added that serious resistance was shown to the party's decision to resign by most PTI legislators in the provincial assembly.

Civil disobedience

In the first half of his speech, the PTI chief defended his decision of civil disobedience and said it was the best weapon to snatch freedom. "In case Nawaz Sharif survives our march, he will not survive the civil disobedience," added Imran.

Published in The Express Tribune, August 19th, 2014.
COMMENTS
Comments are moderated and generally will be posted if they are on-topic and not abusive.
For more information, please see our Comments FAQ