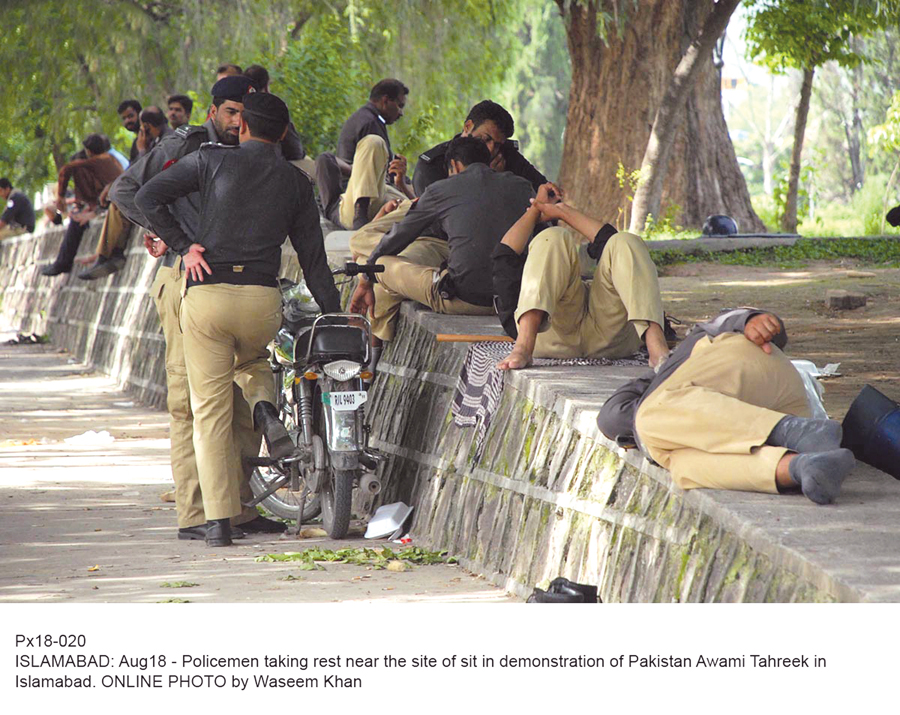 ---
ISLAMABAD:



Education authorities of the capital are balking at the Islamabad Police's request for the possession of 27 additional educational institutes to lodge security officials as several schools and colleges already housing law-enforcement officials have been reportedly damaged by the 'occupiers'.




Officials at the Federal Directorate of Education (FDE) confirmed that 32 schools and colleges have already been handed over to thousands of police officials from Azad Jammu and Kashmir, Frontier Constabulary and Pakistan Rangers who arrived to guard the city ahead of the 'long marches'.

On Monday, an inspector of Islamabad Police approached FDE for the handover of an additional 27 institutions.

"We are already receiving information about damage done at some colleges and then comes this application for accommodation of an additional 10,000 policemen," said FDE Director Administration Ashraf Nadeem.

The furniture of Islamabad Model College for Girls (IMCG), F-7/2 is lying in the main lawn of the college and remained exposed to the recent torrential rains. Besides, the Geography laboratory has been totally defaced as the writing boards, lapboards and maps have been damaged.

Nadeem told The Express Tribune they could not do anything since the orders are coming from the government in light of the prevailing crisis.

Principal of IMCB, F-7/2, Khalida, commented that she has not gone to the college so she is unaware about any damage to the building.

Similar infrastructural damages were reported at Islamabad Model Postgraduate College for Girls, F-7/4.

At a school in Sector G-6, locals gathered to protest against security officials and threatened to take action against them. Later, after the intervention of police, they dispersed peacefully.

Federal Government Teachers Association President Sagheer Mirani said the government should direct the police officials staying in these education institutions to take care of their surroundings. He also added that there should be some alternative for residences of security staff as it has now become a norm to take political marches to the capital.

Earlier, former joint education advisor at the Capital Administration and Development Division (CADD), Rafique Tahir, said they had written a letter to the Islamabad deputy commissioner warning that all damages done to buildings would have to be compensated.

The division had also dispatched a letter to the secretary Ministry of Interior about avoiding potential damage.

FDE again headless

After CADD transferred its secretary and joint education adviser, FDE was rife with speculation as to who would be the new director general (DG). Tahir was the acting DG at FDE but on Monday he was also relieved from this duty. A group of the non-teaching union was seen preparing to welcome the former DG Shahnaz A Riaz. According to unconfirmed reports, the Establishment Division has restored her as the new chief of FDE but the news could not be verified from the authorities. Riaz has filed an application with Prime Minister Nawaz Sharif for alleged harassment and against her 'illegal' removal from the directorate.

Published in The Express Tribune, August 19th,2014.
COMMENTS
Comments are moderated and generally will be posted if they are on-topic and not abusive.
For more information, please see our Comments FAQ