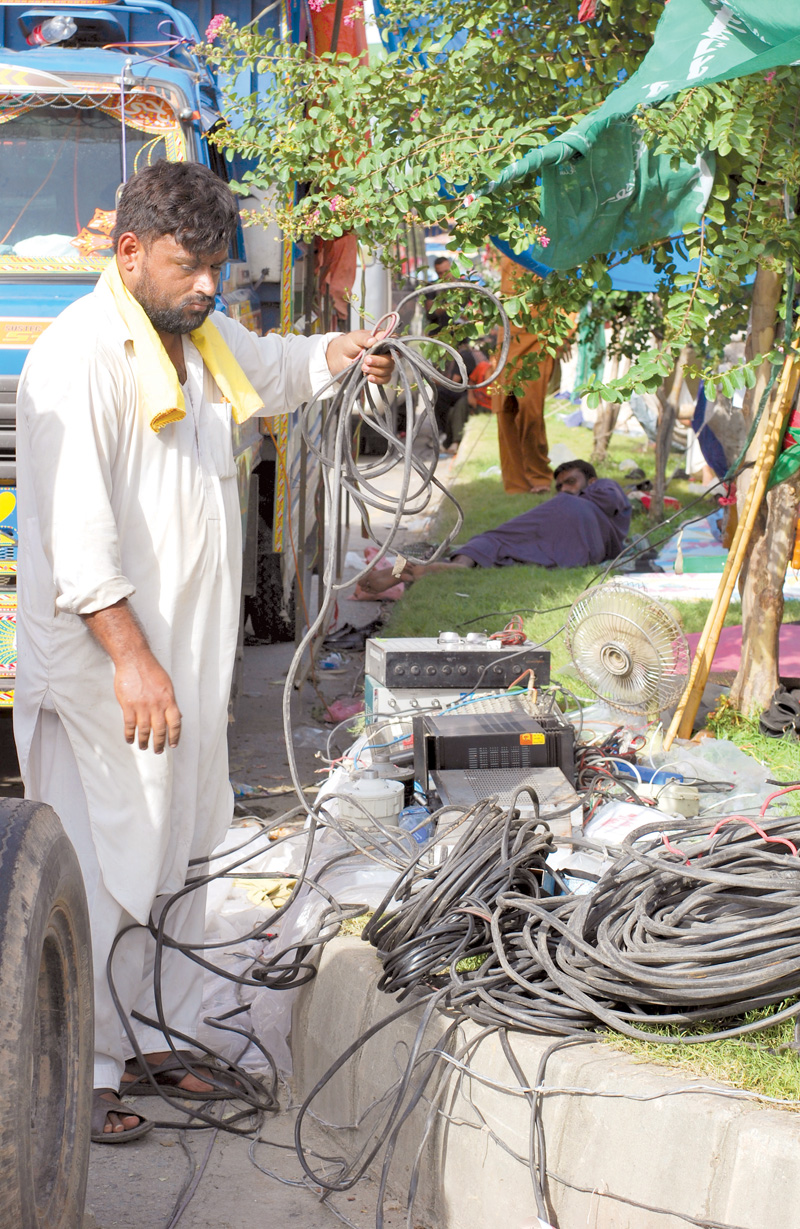 ---
ISLAMABAD: When the call for Dr Tahirul Qadri's "Inqilab march" was flashed by the media, Mazhar Ali took an impulsive decision to shut his business in Lahore to join the Pakistan Awami Tehreek (PAT) to make the march a success.

Generating zero income for the past ten days, Ali has halted salaries of his 17 employees who work at his furniture shop in the Punjab capital.





Most vendors are not from Aabpara but were pulled in owing to the attractive business opportunities.
PHOTOS: HUMA CHOUDHARY/EXPRESS




Proudly flashing his PAT 'camp in-charge' card, Ali stands in the scorching sun with an umbrella directing the DJ to replay Qadri's speeches and party anthems.

Ali joined local PAT organisers in Lahore voluntarily. A committee was formed where contributors handed in cash to support the rally. He said there were no external donors or supporters were asked to make monetary contributions to make the march a success.




"I don't have an estimate of the amount of money I have spent from my own pocket but it's probably in the thousands" said Ali, adding that "I will continue to contribute and support the party till I can. This is an investment for the country," he added.

It's a party

The Khayaban-e-Suhwawardy Road in Aabpara is no less than a carnival. Large trucks have been parked a few feet from each other. Mohammad Asif untangles thick cable wires in an attempt to connect all the speakers to the main stage where Qadri makes his speeches. Four main DJs blast party anthems occasionally to boost the morale of supporters. Three people are on duty just for the music on an eight hour shift. They camp under the shade with their equipment with a generator close by.





Most vendors are not from Aabpara but were pulled in owing to the attractive business opportunities.
PHOTOS: HUMA CHOUDHARY/EXPRESS




As a small crowd encircles cheering youngsters, Ali said "while we are perceived conservative or as religious extremists, the fact is that we are having a good time peacefully which reflects our progressive ideology".

As the carnival continues, local food vendors cash on the opportunity doubling their profits. Niaz Ahmed, who works at a local shop in G-10 Markaz, said he heard from other friends of great business opportunity on the rally's venue. As rain poured on the first night followed by a scorching sun, Ahmed knew an item necessary in a time like this would sell like hotcakes. Tucking a number of umbrellas, he walks around making his sales. "I have been making Rs2,000 per day, more than what I usually make with my other job," he said. "This is temporary. I will go back to doing what I do once all this is over," he said.




Cobbler Gul Muhmmad who had left his work place in Aabpara to visit his family in Khyber-Pakhtunkhwa returned to his shop with full of clients.  "I have never fixed these many shoes in a year. I don't care much about politics, but this march has brought a change in my life," he said with a smile, while talking about the people who make a beeline outside his shop to get their shoes polished and repaired.

Published in The Express Tribune, August 19th,2014.

 
COMMENTS
Comments are moderated and generally will be posted if they are on-topic and not abusive.
For more information, please see our Comments FAQ