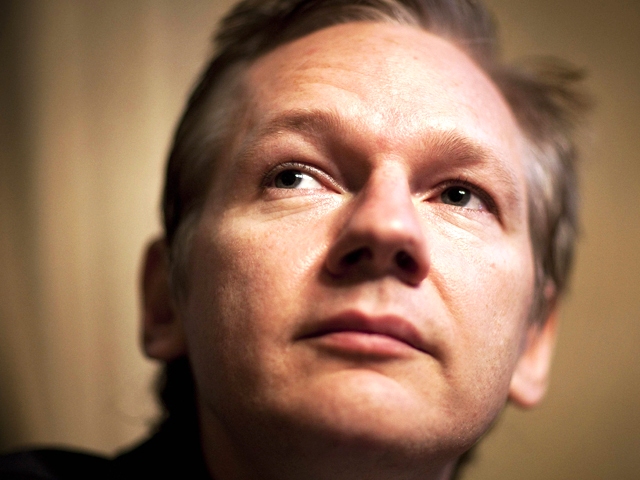 ---
LONDON: WikiLeaks founder Julian Assange said Monday he would "soon" leave Ecuador's embassy in London but his organisation played down the comment, saying he would not depart until there was an agreement with Britain's government.

A pale and bearded Assange, who sought asylum at the embassy two years ago, told a press conference: "I can confirm I will be leaving the embassy soon."

His comments came after British media reported, quoting a WikiLeaks source, that he was suffering from the potentially life-threatening heart condition arrhythmia and had a chronic lung complaint as well as dangerously high blood pressure.

Assange, 43, insisted he would not be leaving for the reasons "reported by the Murdoch press" and did not elaborate further on how or when any departure would happen.

But speaking after the press conference, WikiLeaks spokesman Kristinn Hrafnsson indicated that Assange would remain at the embassy until an agreement was brokered in his case.

"What Julian meant is that his plan is to leave as soon as the British government honours its commitment," he said.

Asked about Assange's health, Hrafnsson added: "He seemed pretty well to me."

Assange sought asylum at the embassy in June 2012 to avoid extradition to Sweden, where he faces allegations of rape and sexual molestation which he strongly denies.

He fears extradition to Sweden could lead to him being transferred to the United States to face trial over WikiLeaks' publication of classified US military and diplomatic documents.

Former US Army private Chelsea Manning -- formerly Bradley Manning -- was sentenced to 35 years in prison last year for passing 700,000 classified documents to WikiLeaks.

Britain's Foreign Office indicated that its position on Assange's case remained unchanged and that it remained "as committed as ever to reaching a diplomatic solution."

"We are clear that our laws must be followed and Mr Assange should be extradited to Sweden. As ever we look to Ecuador to help bring this difficult, and costly, situation to an end," a spokesman added.

Assange was accompanied at the press conference by Ecuador's Foreign Minister Ricardo Patino, who did not mention a plan for Assange to leave the embassy but called for the governments involved in his case to take action.

"The situation must come to an end -- two years is simply too long," Patino said.

"We continue to offer him our protection... we continue to be ready to talk with the British government and the Swedish government to find a solution to this serious breach of Julian Assange's human rights."

Britain funds round-the-clock policing at Ecuador's embassy in London's upscale Knightsbridge district because of Assange's presence.

In June, Scotland Yard said it had so far spent £6.4 million ($10.9 million, eight million euros) on guarding the building.

The embassy offers Assange no outdoor space or direct sunlight, making for uncomfortable living conditions.

The WikiLeaks founder spoke of his anger at being stuck in the embassy in an interview with this week's Mail on Sunday, describing how he could not even "keep a pot plant alive for long in here".

"My stubbornness is my best and my worst quality. I won't give up," he told the newspaper.