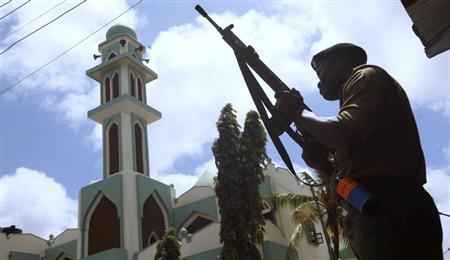 ---
Kenya's internationally funded anti-terrorism police have carried out a series of killings and "enforced disappearances" following a string of attacks in the country, Human Rights Watch said Monday.

"Kenyan counter-terrorism forces appear to be killing and disappearing people right under the noses of top government officials, major embassies, and the United Nations," said HRW's deputy Africa director Leslie Lefkow. "This horrendous conduct does not protect Kenyans from terrorism - it simply undermines the rule of law."

The unit receives funding from the United States and Britain, HRW added, with Washington providing $19 million (14 million euros) in 2012.

HRW said it had documented evidence of "at least 10 cases of killings, 10 cases of enforced disappearances, and 11 cases of mistreatment or harassment of terrorism suspects," with strong evidence of a police involvement.

"Suspects were shot dead in public places, abducted from vehicles and courtrooms, beaten badly during arrest, detained in isolated blocks, and denied contact with their families or access to lawyers," HRW said in its report.

"Donors need to carry out their own investigations of these abuses and suspend their assistance to abusive forces, or risk being complicit in Kenya's culture of impunity," HRW added.

Several Muslim clerics have been shot dead on the coast, including radical leaders accused of backing Somalia's Al-Qaeda-linked Shebab insurgents.

Kenya's Anti-Terrorism Police Unit (ATPU) was set up in 2003 following a bomb attack on the US embassy in Nairobi in 1998, and on an Israeli-owned hotel in Mombasa in 2002.

"The ATPU has been conducting abusive operations for years, sometimes very openly, yet the Kenyan authorities have done nothing to investigate, much less stop these crimes," HRW added.
Kenya has been hit by a series of attacks since invading Somalia in 2011 to battle the Shebab, later joining an African Union force battling the Islamists.

The Shebab claimed responsibility for last September's assault on Nairobi's Westgate shopping mall in which at least 67 people were killed.